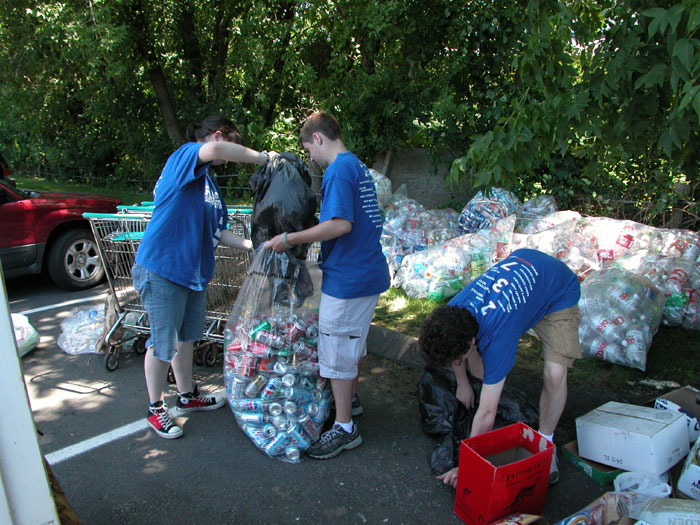 Team 237 isn't taking the summer off. We had a bottle drive today. Good response…lots of bottles and cans.
Without seeing the picture, I read the caption and thought, "What sort of drivetrain could a 'bottle drive' be?"
I need to find another hobby.
Don't feel bad I did the same thing

Me too

Good work 237 though, bottle drives are a good thing.
It's a super-silly-sick-secret transmission… Shhhh…
Anywho, thankfully the weather was very nice yesterday for this bottle drive, unlike the last one we had where it poured out.
We had visitors from CT of course, and a FIRSTer some of you may know by the name of Andy Grady from NH visiting us as well yesterday which was a nice surprise…
edit: <Side Note - N.E.R.D.s is still under development and will be definitely coming soon - I can confirm that.

>
We did not have the robot out for show and tell which some of the team disagreed on, but most of the time people were just dropping off there can's and leaving - not really interfacing that much with us.
It was a good turnout, and I hope we have at least one more by the end of the summer on another good day.
Maybe if we do have another one, we can have the robot there and interface with the populous a little more and gain some contacts. Who knows.
The one good thing as well, is that there is a Radioshack right across the street so when we had a lull in bottle collections a few of us went over there and checked out the new flyer for the upcoming vex parts.
20 bucks for a tank tread kit was the thing that caught my eye. - Even though I don't have a VEX kit yet, It's a possibility in the future - definitely.
I'll have to scan in the flyer I got and put it up here on CD, and hope Vex's lawyers don't yell at me for distributing via electronic means a free flyer. :ahh:
How much did the team make? Our team's thinking about holding a drive this fall. 'Course, we'd have to find the drive team's summer hideout! The build team's too busy figuring out that bottle drive for next season! :yikes:
We have a private recycling center that pays $0.04 per. We maintain an account there, so anyone can drop off bottles at anytime and give the team the credit.
That's a great way to do it. Thanks.

this has inspired me to create the first ever bottle drive.

i think it will involve flexible shafts.

4 cents? Is that all? What happens to the missing cent?
Ten years later I thought the exact same thing. I think I have an addiction
In Massachusetts it's supposed to be 5 cents per, but our local redemption center generally pays just 4 cents, citing increased costs to them. If we call ahead (so they don't get swamped with a can drive), they'll pay the 5 cent rate, with some mumble-mumble pre-count and sorting, and *mumble-mumble *clear bags and boxes we have to buy from them. (The "mumble-mumble" is their explanation, not @#$#@#%.) Generally we bring over several thousand cans for a morning's work. They add it up and send us a check.
The secret is mumble-mumble.

No, seriously, lots of advertising, plus have a set day every year – the Saturday after Graduation Day is good. After a year or two everyone starts saving up for "that robot club at the high school". Greet everyone with a big thank you, and say that every can counts. (This year we added "It's better than Battlebots!") Even the police send over their cans.
I try to show the kids that one can may only be 5 cents, but a bag of them will pay for a sensor, and yes, 4 bags for a Tank Tread, and a whole pickup truck load may pay for a hotel room for a night. It does add up.
Heh: Maybe not a bottle drive, but how about a bottle robot?