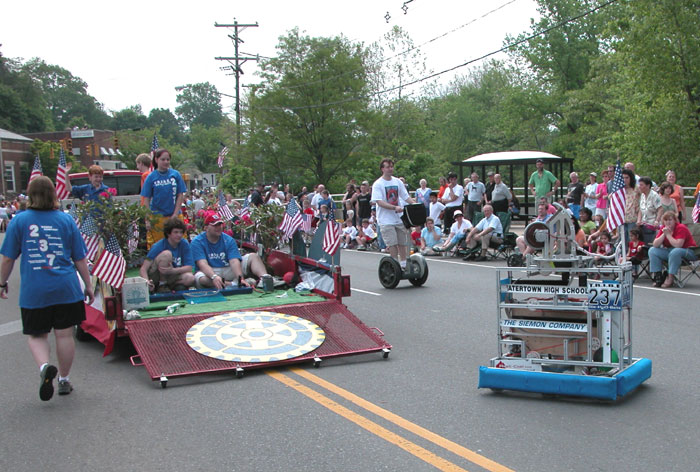 Thanks to the Rotory Club for Space on their float for the drivers. The bot ran well. collecting and shooting.
Quick quick get on the ramp!
After the Memorial Parade some 177 kids just had, this is the highlight of my day. Did u fire candy out the shooter?
nope but we did shoot lots of balls, haha. another great showing at the parade.
How many battery switches did you have to make? Our parade is rather long, and I bet we'd have to switch it out at least three or four times.
we only went through 2 bats (over a mile), and over-heated the window motor…stupid window motor. everything else went wonderfully
Did you ever hit anyone in the crowd wearing a neon green shirt?
greg when was the last time you marched in the parade? its like the shortest parade ever. 3/4 of a mile.
Ours wasn't. I was marching with the band, so we were wearing heavy jackets and hats for like 3-3.5-4 mi. With the weather like 85 degrees. Ugh. Not fun. I'm hoping the team will march next year so I have an excuse to not march with the band. Really cool idea though.
We had a Segway in our parade too! Ours however, was being ridden by a vet who had on a neck brace and didn't look like he could walk too well… Very cool though
a bit random, but it does have to do with engineering.
Two A-10s flew over head!!! That was so sweet! I was marching as a GS with flag, and I just had to slow down. They were ridiculously low. Did they fly over any other CT parades?
I think I see an American flag on the robot where the blue or red alliance flag would normally be. It's great (especially on Memorial Day) to proudly recognize being part of the USA.
Haha yes another great showing at the parade. We do indeed have an American flag where our alliance flag would normally go. And to answer Daisys question, 2 A-10s also flew very low over our parade route right when it began, like they do every year. Such a wonderful sight. The robot performed well. Now it is doing some resting before we do a tire change and some fixes before we pull it back out for BC7.
It's 1.2 from the middle of S Satellite, so more like 1.4 since only the HS marching band and the army vehicles were that far up at the start of the parade.
So, have any teams shot candy out of their shooters? I was wondering how to best do that a few weeks ago, but didn't think it'd be too feasible for any distance.
Yea, they flew over the South Windsor Parade, probably on their way to the Rockville one

.
Wow. That's no fun. And I thought 1.2 (Thanks Chris) miles with wool uniforms sucked.
No candy shooting or throwing allowed in 237 land

Wait, you get a choice?
We also marched and… of course. It sucked.
There's a little memorial at the cemetery and we march to it and stay there and stuff. I passed out last year because of the uniforms. I was fine this year, but still…
I don't know how well it would work if our robot was driving the parade. There's quite the up-hill that it would have to travel. It has no problem getting up a 1 foot ramp, but a 40-50 foot slope might be a little difficult.
No camera on the bot today since we killed two of them at Monty Madness last weekend, but if it was hooked up, I would of liked to try and track the traffic lights if they were green, and not flashing yellow. Darn flashing yellow. LOL
The parade was fun as always, and everyone had a good time.
Special thanks to Marc from Team 38 for making a guest appearance on his Segway yet again this year.
The Air National Guard always flies 2 A-10s over every single town in Connecticut each Memorial Day.