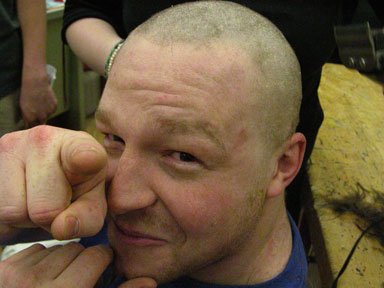 See you at UTC Hartford
I umm… have no comment!

now elgin has before/after/more after pics
Elgin, just think of it as like speed holes in your bot but a speed bump…on your head…um yeah thats it!
Now that is true GP to shave your head cause you made the bet to do so (as a joke) if 237 won the regional.
Hm what will you shave if 237 wins UTC, your back and legs?
O M G elgin hwat did u do! I never thought he would actually do it. Now we have to win UTC to find out what he'll do next!
Hey Shel, he didn't actually have a choice!

You didn't stick around to see us circle and corner him in the woodshop. Oh, and don't forget to ask to see the photo of me with the belt sander next to Elgin. It's just like Clue. It was Jason, in the woodshop, with the Porter Cable belt sander!

And for the record it was actually Trinora with an electric razor.
What a fun night tonight was getting that hair off of Elgin! LOL.

Elgin, you look like a newborn baby or something

But you're not showing the best part! Your bum-chin!

That's what I get for making bets!!! lol I would like to congratulate my team. This is the first bet I didn't wish I lost!!For all who are interested, here is a before pic!


If I wasn't there I wouldn't have believed it !!! But Elgin just sat there and let it happen. I have this sudden urge to play pool

Jack
:ahh: :ahh: :ahh: :ahh: :yikes: ive lost alot of bets but ive never had to suffer something like that
I'm just glad they decided to use the Electric Razor, and not the first thing they wanted to use to shave my head to a nice shine!!
Geez Elgin, you do forgive me for that one, don't you?

It would have been rather effective especially since the electric razor was having problems at times and Trina had to use scissors.
And just to let everyone elso know, at that point in time everyone except Elgin knew I was standing there with the belt sander. You should have seen his face moments after this photo was taken and he saw the belt sander. If we have a photo of THAT it's definitely priceless!

Not bad for my first time.
And I thought I went crazy with my hair :yikes:
Hey Trina,
Do you think blonde would be considered an "un-natural color"??

This is amazing! The blondes on our team are trying to be redheads and now the redheads are trying to be blondes. :ahh: