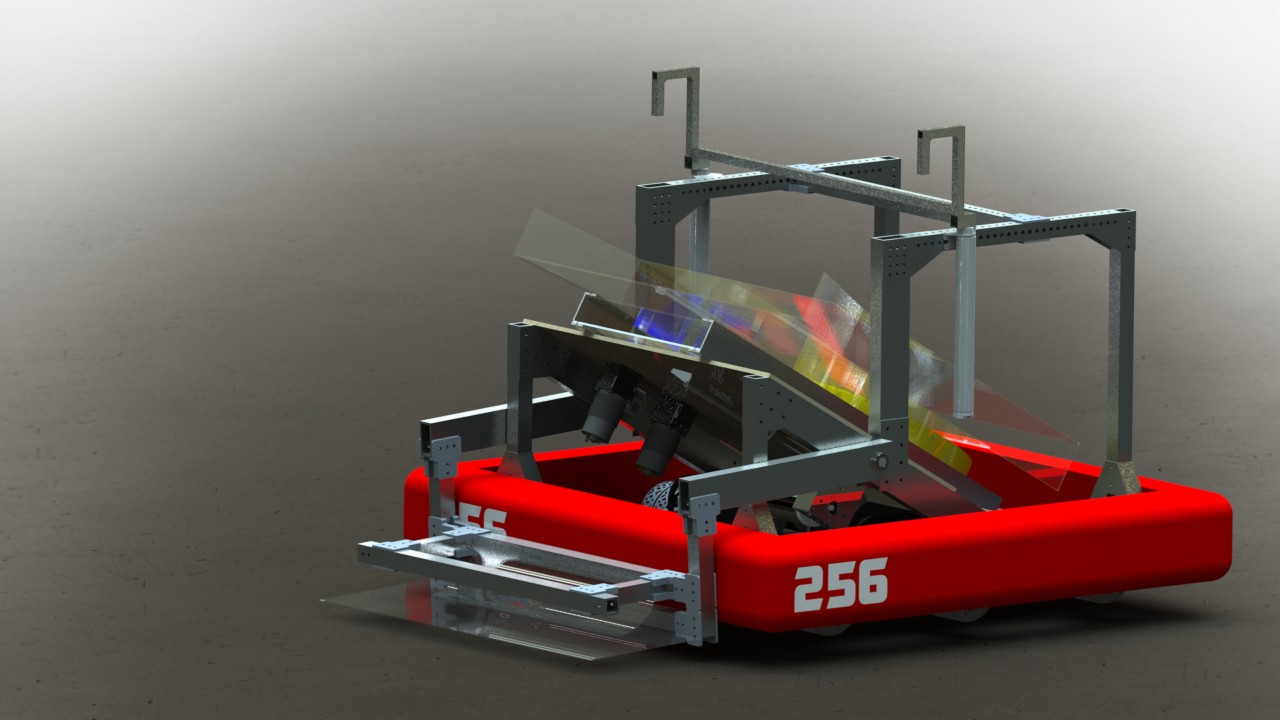 More pictures available at:
http://imgur.com/a/8qnV2
Currently in production. Will compete at WRRF CalGames in October, and Madtown Throwdown in November.
Technical Specs:
Drivebase:
-Square 27"x27"x28" frame designed to maneuver under the pyramid
-6 wheel West Coast Drive with a center 1/8" drop utilizing 2" wide, 4" diameter high-traction wheels
-2 Speed WCP Shifters with 4 CIMs geared for 16.1 fps and 6.1 fps allows for speedy cycles and effective defense
-Driven by timing belts and pulleys to maximize efficiency and minimize noise
Shooter:
-24" long linear shooter angled 30º above the ground
-Discs fed into shooter by rapid-fire pneumatic piston from underneath
-Two 4" urethane wheels driven by two RS550s through 4:1 and 3:1 VersaPlanetaries compress the discs by a half an inch to effectively transfer momentum to the discs, launching them into the 3 pt goal
Floor Pickup:
-2 disc wide floor pickup arm uses the "spatula" design originated by Team 1986 to slip underneath discs in the lowered position, and then rotates them near-parallel with our intake in the raised position allowing the discs to seamlessly slide out of the intake and into our hopper
-The polycarbonate used to slip under the frisbees in the lowered position doubles as a pyramid alignment mechanism in the raised position, giving our drivers the ability to quickly line up for accurate and rapid scoring.
Autonomous:
-Multiple autonomous modes allow for starting positions on any part of the pyramid, including multi-disc modes that gather the discs on the center line and under the pyramid
Endgame:
-Two pneumatically actuated pistons are designed to retract automatically at the end of the match, ensuring a simple and easy 10 point hang at the last possible second of the match, saving time for more cycles during teleopperated period.
-A removable blocker the width of the robot can be attached to the back of the climbing hooks to instantly shut down any opponent who attempts to shoot full-court with pool noodles that can extend up to 66.5" tall, more than a half a foot above the height of any full-court shooter.