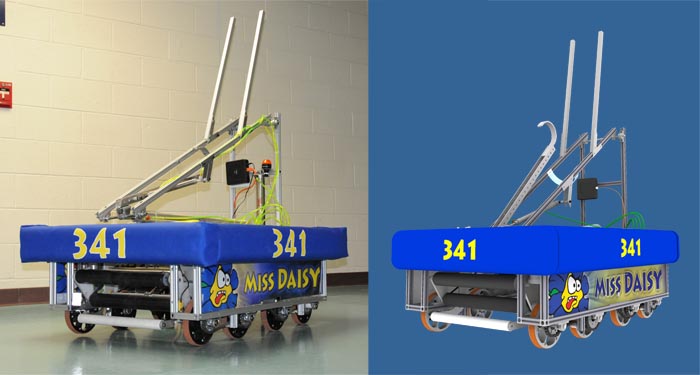 The students, mentors, and sponsors of Team 341 Miss Daisy are extremely proud to present our 2010 robot. Despite the challenges of a snow-shortened build season, we believe that this machine has the potential to be the best and most complete robot that we have yet built. This picture shows our machine (roughly 95% complete - just missing the top covering) next to its CAD render the evening before ship.
Now…specs!
Drive:
8WD with dropped center wheels powered by modified AM shifters.
Shock absorbing rubber wheel mount "suspension"
Traverses the bump beautifully (and much more quietly!) through the use of a pneumatic assistance device
Ball magnet:
Product of ~10 iterations of prototypes
Dual driven rollers mounted on a suspension to conform to balls of varying inflations and force them to slip against the carpet
Can capture balls at full speed, and keep control during aggressive maneuvering
Kicker:
Can score from all parts of the field
~2 second cycle time
Hanging:
Uses ginormous pneumatic cylinder with spring assistance for fast hangs right up until (and sometimes even after!) the buzzer
Floor to 2 (3?) points in under 5 seconds
Righting/Blocking:
Top covering (not shown) can block balls
Can use our hanging arm to right ourselves from any of the robot's stable flat-land orientations.
See you in New York, Philly, and Atlanta!