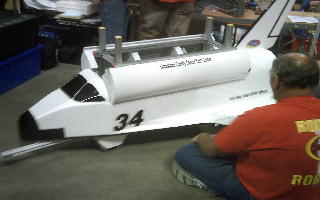 that's awesome! Will we be seeing this in Atlanta?
I expect no less… does the hatch open and close?
Yep.
(There's a reason they won Imagery at Palmetto…and wait until they mention their plans for this for next season.)
Yep…we'll have it in Atlanta. We're hoping to make it remote controlled next year.
That is the most unique cart I've seen.
Do the wings fold up or come off for transport? What is it made of? I see profile (looks more like Bosch than 80/20 although the pic is blurry) but is the whole frame of it profile? What did you use for the 'skin' or panels for it?
It's made of wood and plaster, and the wings fold up when needed.
Very cool! How does it travel over the random 3in. humps that cover the cables? I know that we had some trouble with those in St. Louis.
Now, the question is where to find tiny little astronauts to pilot the craft…
Chris
We have a little bit of trouble going over the little bumps over the cables, but we just have to go slow, and all of us hold on to the robot.
We actually have little inflatable astronauts that we put in the cart while we are on the field.
we need to do something cool and creative like this. we were thinking a lift maybe? unfortunately this year's bot didn't have ramps, so that would be a lot of fabrication.
Not gonna lie, dats pretty cool…our team only has a piece of wood on 4 casters!
I saw that at the Palmetto regional. Looks nice. If I'm not mistaken, isn't their underglow?

Yep. We installed around 16 cold cathode lamps underneath (red & yellow for that re-entry effect). The wings fold up and will eventually be controlled with pneumatics. We added engine nozzels this week just in time for the Championship. The cargo bay opens & closes when the robot holding rack is removed. It's was designed by students in the drafting class, built out of wood in the woodworking class, and finished (including a fiberglass wrap) in the collision repair class.
Future enhancements include:
More Lights! (strobes, markers, cold cathodes)
Flames from the nozzels (We need to look at H.O.T.'s fire pots)
Actuated wings
Drive by wire
We will definately have it in Atlanta. Come by pit 34 in Curie!
That's amazing! Has great imagery appeal! Plus it just looks cool!
That's awesome. Good luck in the finals…
WOW! That looks awesome!
haha, we're the Pirates so we have a Pirate ship =]
It'd be REALLY cool if you could put some toolboxes or something in there as cargo…THAT would be the final straw on making it officially one of the coolest carts ever…:D…but wow… that is awesome.