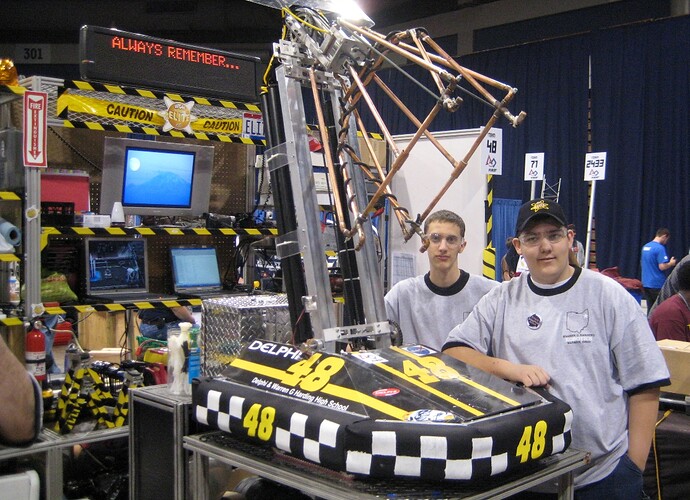 Here's an updated picture of our 2008 robot. Tentative nickname - "Jimmie". Can you guess why?
Yes, those are (non-functional) headlights. Originally, we wanted to powder coat the entire thing black, and with the new all black A-M omnis/rollers, the bot would have looked like KITT from Knight Rider. I wanted the front hood graphics to have a little David Hasselhoff guy driving the bot along with some with the red LED scanner lights on the nose of the robot, but noooooooooooooo.
This is the Thursday edition, so some things were yet to be added.
Overall, I was very pleased with how the robot, drive team, and the pit crew performed at Midwest. We've got some plans in the works to further "soup up" the bot for Pittsburgh, Buckeye, and Atlanta.
Informal Poll - Should we keep our mistakenly-inverted rear bumper (adding a "If you can read this, just flip me over" bumper sticker

) or fix it? I'd like to keep it - what say the masses who noticed this at Midwest or via the webcast?
Turns out this was an unintentional homage to 1114's Simbot Simon robot at the Canadian Regional in 2004, inverted team number panel and all.
http://www.chiefdelphi.com/media/photos/18518
Figures, as xtremachen11 uses a similar arm design to our 2004 bot that allied with the Simbots at that event. Karthik also tells me we hung on the bar at Midwest - catching air for a brief moment, bringing back fond memories of FIRST Frenzy. Ah, nostalgia…
"No, we are not Chuck 84 - we are 48 Delphi E.L.I.T.E.!!!"