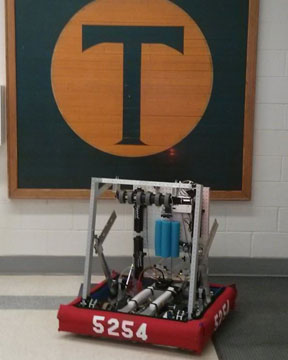 A photo for The Blue Alliance.
It may not look like it at first glance, but this little robot was one of the top assisting robots at Finger Lakes, routinely scoring in the low goal and making quick passes. It even had a two ball auto! They were #1 on our list for second round picks and put up a hell of a fight against our alliance in the quarter finals. If they stay simple and effective this team has a bright future in store for themselves.
This team is one of the smartest rookie teams I've ever worked with. We had one qualification match with them against Miss Daisy and two other decent robots. We nearly won doing two-assist cycles with these rookies finishing in the low goal for us.
It was an exciting match.
Then they ended up on the 5 seed alliance for eliminations. In their first quarterfinal match, they beat the Daisy-Shaker alliance by one point with an incredible, on-the-run last second score.
Needless to say I thought they were a shoe-in for the Rookie All-Star Award, but unfortunately they did not receive it and their season had to end right there.
Look out for these guys in the coming years. They're going to be deadly.
I'd like to echo pretty much everything that Kevin said. Also, as a member of the team that did win the Rookie All-Star at FLR, I want to say that we were really pulling for 5254 to win it over us. This is a team that deserved to attend Saint Louis.
Thanks for all the kind words. We were disappointed that our ride ended there but we had lots of fun and eliminations were a very fun experience. We were kind of confused because the only judges that came to talk to use were 2 that came in a pair the first day, after that every other judge walked right past us. We weren't sure if this was normal but it seemed strange to us.
We are exited to be attending the Ruckus later this year and are looking forward to playing with all of you again. This year we didn't have much time to work on awards because we had only 8 kids, all of which were freshman or sophomores. Next year we will try and focus on the awards more and try to get to champs. I was able to go to championships tagging along with 639 and it was an awesome experience. I hope the rest of my team is able to go before they graduate as it is something that no FIRST student should miss.