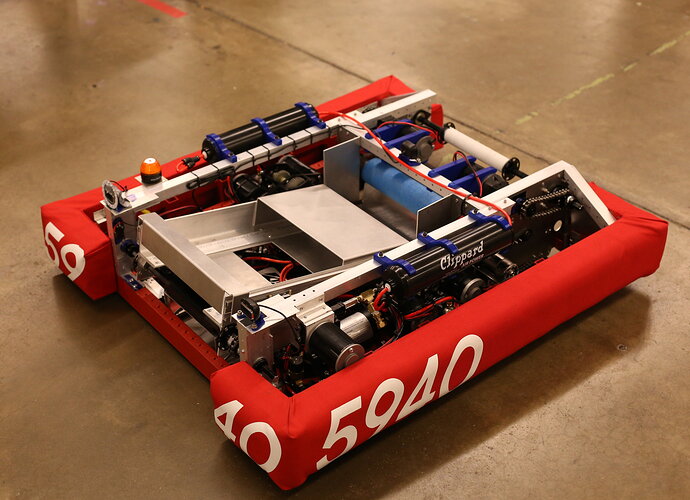 Team 5940 is proud to present our 2017 robot. It is yet to be named, but we just couldn't wait to share it with everyone! Didn't get to shoot actual video before it went in the bag, but expect some coming soon shot with the second robot. It features the following:
Drivetrain: 6 3.5" Colson wheels in a WCD setup using sliding bearing blocks. Driven by WCP Flipped DS gearboxes and #35 chain. Lasercut bellypan made of .1" aluminum with bottom mount battery.
Gear intake: 1 10:1 775Pro driving two rollers. Made of bent sheet aluminum using the WCP roller System to convey game pieces. Rollers are wrapped with Polyurethane tube to grip gears.
Arm: This is one of our favorite parts of the robot, and it was inspired by 1678 last year. 1 30:1 MiniCIM to raise and lower gears for placement on peg. Also intakes from human player station when in top position. Features a sliding cradle driven by two pneumatic pistons to release gears.
Scaler: 2 40:1 MiniCIMs driving a Velcro drum. Ratcheting wrench for backdrive protection.
Vision: Kangaroo mobile PC with OpenCV for gear placement in auto and automatic alignment in teleop.
And yes, it is Low Bar capable

We'd like to thank our sponsors for their support this season: Oracle Education Foundation, NASA, Google, Apple, DeVincenzi Metal Products, R2 Semiconductor, Nvidia, American Medical Response, WestCoast Products, Gene Haas Foundation, and Design Tech High School.
We'd also like to thank Team 971 for machining our drivetrain for us.
See you at SF and SVR!