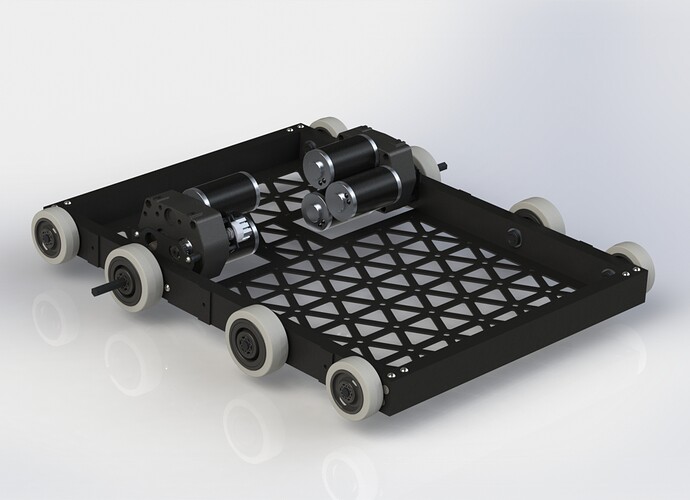 Our 2015 offseason testbed. Our goal was to make a shifting 6CIM 8WD as light and simple as possible
8WD - 4x1.5 colsons on center 4 wheels, 3.5x1.25 colsons on outer 4 wheels
TexasTube chain-in-tube system - 17t double sprockets from 221 Robotic Systems, 2x1 VEXpro Versachassis
VEXpro 3CIM ball shifters - 18fps hi/5fps lo ideal speeds (we clocked it at just above 16fps)
Just under 35lbs with gearboxes and CIMs not including bellypan
You may notice that our bellypan is a bit overkill. We left a lot of metal on it so that we could place the battery in the center of the DT without worries.
The corners of the frame are tied using a system similar to 221s SimpleTube chassis
We did limited testing and found that the drive was smooth and easy to control once the driver got used to the speed. We added weight until around 145 lbs and were able to t-bone push a kitbot on AndyMark HiGrips weighing up to around 220lbs in low gear. We also tested our Feed Forward and Motion Profiling programs on this testbed and were able to drive a set distance to an accuracy of 1-2in without encoders.
CAD is available here: https://grabcad.com/library/team-624-2015x-prototype-testbed-1
Now all I can do is sit back and hope for a flat field…