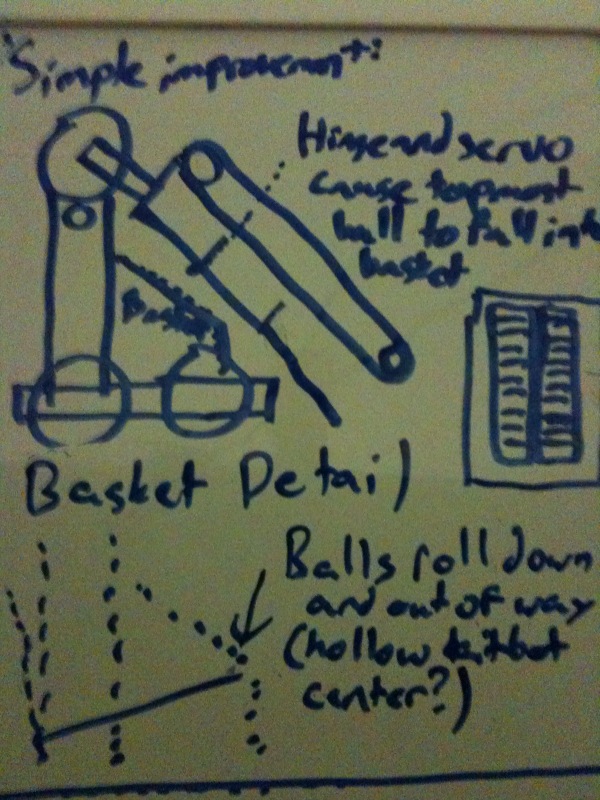 A bit detailed for a "teaser" but whatever

I got bored procrastinating on a paper I had to do, so I started sketching out ideas for the Vex robot I want to build for the Ruckus at the end of the month. I wanted a fairly simple design I could build with relatively little more than what's in my basic kit, that could intake more than one ball, hoard the opposing alliance's balls, score, and hang. Here's my design sketch right now.
An end effector on a single jointed arm made the most sense to me for a manipulator, being able to raise and lower the arm for the various goal heights would be important. An added bonus, with a small bent chunk of Vex metal at the end, it should be able to hang without too much trouble. It's 2 balls wide and in theory it should be easy to make the sides of the manipulator independently controlled, which would allow the robot to intake 2 balls at a time but only score 1 at a time into the narrowest goals.
From there, I wanted a way to hoard the opponent's balls, as if I had them, they can't be scored. This initially took a robot redesign, but then I thought of a simpler solution that's only kind of sketched out on paper. A servo near the "top" of the end effector opens a trap door, dropping the balls out of the manipulator down. Since robots begin next to opponent's balls, I can grab as many of those first as possible and dump them into the robot. A basket with sloped bottom holds the balls, and thanks to the way the robot will hang none will drop out when it flips over on the bar.
Basic Vex 4 wheel drivetrain there; holonomic would be cool but I don't have omnis nor do I really want to get pushed too easily.
What do you think of the concept? Any glaring omissions?