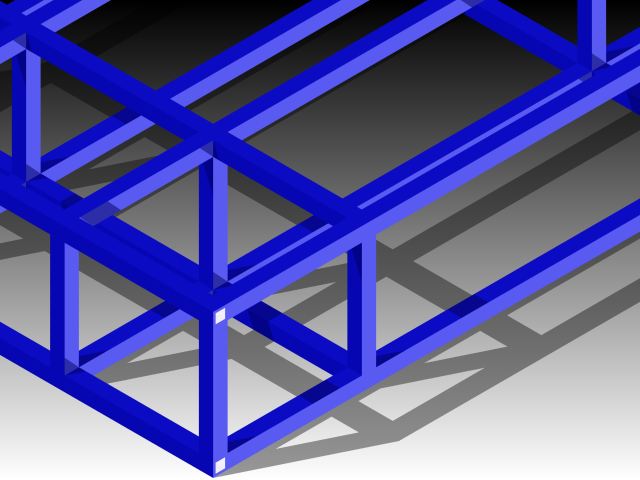 Can you guess what we are up to this year?
I'm gonna say either crab/swerve or mecanum.
I'm guessing you guys are building a robot?.. Am I close?
Its crab, you wouldn't design a frame like that unless you were placing crab pods inside them.
Yes I do know what you guys are up to since I saw it this weekend.
Ha ha ha nice Erik. and guess who's programming?
Ill give you a hint…
me
Aww you saw right through me!

ya, whatever. calling a picture a teaser negates any sort of interest i would have had. nobody has come close to the speculation generation that Dave Lavery induces with the game hints.
nice frame by the way. I don't know why you can't just say it and have a normal discussion about it.
now every other picture on CD is going to be some irrelevant close-up with a teaser title.
a more appropriate title would have been "team 79 2011 frame cad close-up"
Well you have a point. I could have done it the way first does but what would be the fun in that.

I know, the next one will include a random picture that barely has anything to do with the robot's design. Naw I'm just kidding.

Wait, I thought we were putting up the flux capacitor next.
Man, you know how to kill a good time.
Teams do it every year. Is it cheesy and pointless? Some would argue it is. But it's fun, and somewhat a tradition.
Already been done

http://www.chiefdelphi.com/media/photos/19885
I remember when I was a student in FIRST. I would go to the Florida regional and patiently wait to watch team 79's robot go on the field. Their 2003 crab drive was phenomenal.
… I can't wait to see their next generation crab drive.
Well all I can say is that we are breaking away from the norm. We are going all out this year and will not be going down without a fight.

Like a BOSS!

I'm very sorry, but how does this hurt you? In any way, shape, or form, how does this effect YOU?
However, thank you for the compliment, it shall be sick.