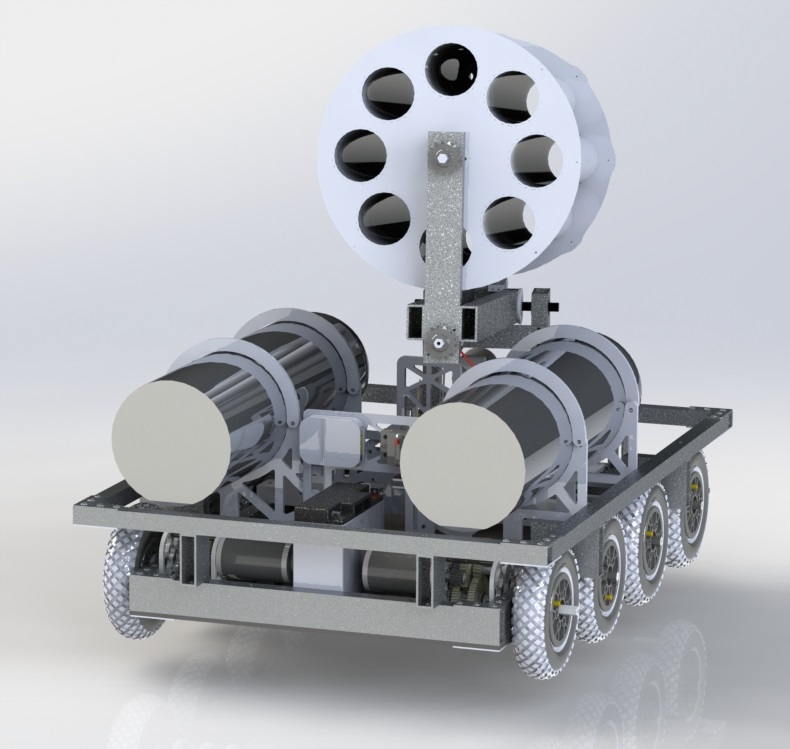 Introducing Team 8's T-shirt cannon, Skyline!
This bot was created as an offseason project for our team. It is 100% student designed and is the result of many weeks of hard work. That being said, we'd love to get some feedback from you all, as there's always more to learn and improve upon.
Notable features:
An 8 barrel revolver style launching system inspired by 254's Shockwave
Barrel indexing using a limit switch triggered by nubs on the rotating barrel assembly
Up/down tilt powered by a mini CIM and Andymark wormbox
A powered turret with 90 degrees of rotation in either direction
8 wheel drive, with the middle 4 dropped 3/16"
2 2 CIM WCP gearboxes
No PVC parts anywhere near this robot
We are still working on the pneumatic setup. One scuba tank will act as a high pressure reservoir, and the other will be our low pressure accumulator. The accumulator goes to an electric solenoid valve which feeds to the shooter. We don't have much experience with scuba regulators and non-FRC pneumatics, so all suggestions are welcome and appreciated.