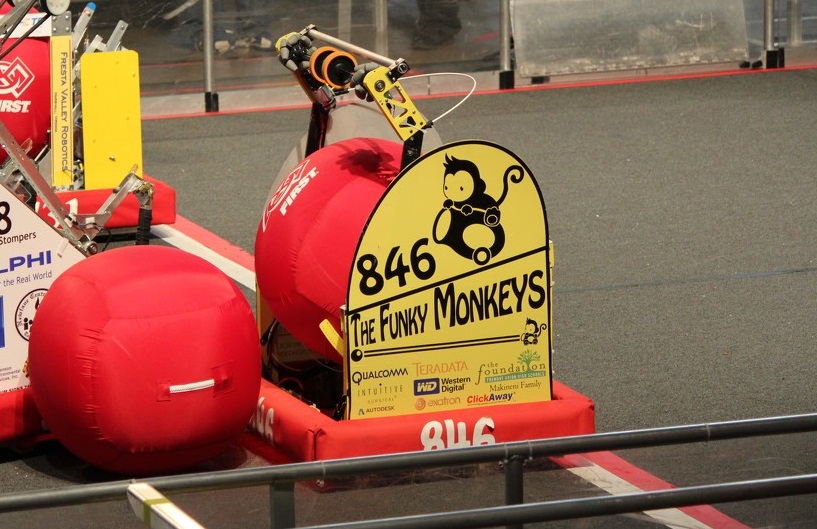 http://youtu.be/6LP_wzg0UKI
We had a great 2014 season with our robot, Funk Cannon, claiming our first ever regional victory and finishing with the highest OPR on the Newton field. Thank you to our incredible sponsors, alliance partners, and everyone who supported us through this awesome year.
Awards:
Buckeye Regional Xerox Creativity Award
Silicon Valley Regional Motorola Quality Award
Results:
Buckeye Regional Winners: 910, 846, 639 (1st alliance)
Silicon Valley Regional Semifinalists: 1323, 846, 2135, 670 (4th alliance)
Championships Newton Quarterfinalists: 910, 846, 330, 1507 (3rd alliance)
Shoutout to the NASA house teams 971, 254, and 1868 for hosting intensely valuable practice sessions at Ames. A huge part of the difference between our robot at regionals and at Championships was being able to get on the field with great teams at home. Thank you.
We look forward to seeing you all at offseason competitions.
Team 846 is sponsored by the FUHS Foundation/Symantec/NASA/Teradata Corp/Qualcomm/Western Digital/The Brin Wojcicki Foundation/Google/PTC/Intuitive Surgical Inc/Makineni Family/NASA Glenn Research Center Educational Programs Office/ClickAway/Vanderbend Manufacturing/Therma Corp./Exatron Inc & Lynbrook High School