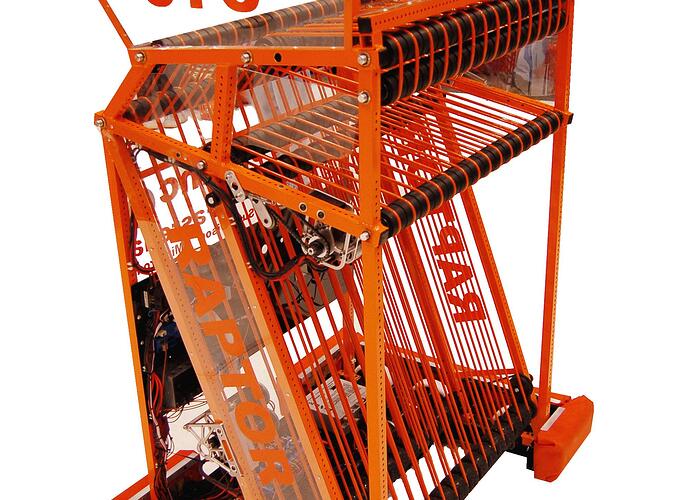 We've kept it quiet all season, but here it finally is.
Here are all the technical specs;
Drive:
-Wide 6 wheel with center wheel closer to back of robot.
-Traditional West Coast Drive with all hex axles
-Single CIM per side, ~ 14 fps
-25.75" wide opening for ball intake.
Conveyors:
-Intake is is "slant" of the "7" shape, and is powered by dual CIMs.
-Exhaust is the short (~1') run pointed slightly downwards, and is powered by 2 Fisher Prices and 2 545s.
-Exhaust can recieve balls from intake, or from hopper. Intake can load balls into hopper as well.
-The Pulleys are 2" OD Black ABS with a 1" CenterBore (bored to 1.125" on end for bearrings/hubs).
-All 10 pulleys on the robot are the same part, but are assembled with different bearrings or hubs (Well same hub, different part bolted to it) to make 3 unique pulley types.
At Champs we'll be having a contest to guess how many inches of round belt we are using (totally stolen from 1501 and their rivits). It wasn't intentional, but I'm fairly certain we've used more than any other robot, ever.
All but one gear is an AM product, which saved a great deal of machining time for us. In total we use 10 plate sprockets, 10 of the 22T 7075 sprockets, 4 of the AM planetary pinions, 4 Aluminum gears, and various other AM gears.
Overall, I'd like to think it's very simple, and we're real happy with it so far. And yes, it's too orange.