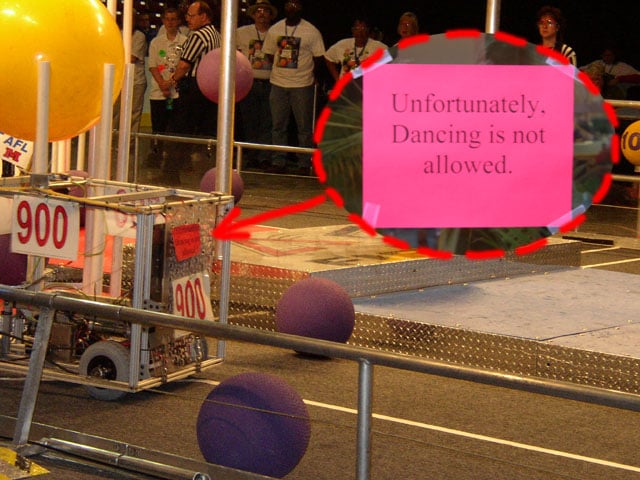 It looks like team 900 really liked the signs from the social (see previous picture).
Thanks for the picture. I wish that I would have gotten one…my brother shot a couple rolls of 35mm on saturday so i'm still waiting to get those back. We thought that the sign was hilarious and would make a nice addition to our robot (along with the fortune cookies

).
-Aaron
Hey go us. Atleast part of our robot had a picture posted to the web. I think just about everybody on the team forgot a camera, so yeah thanks for the pictures. We particularly found it amusing since they played th Electric Slide and other "dance music" but had the signs up. Further more, the dancing judge gave us further reason to want to add it to our robot. And finally, in one of our matches on Saturday morning we were against a team whose robot "pirouted" when its autonomous worked correctly. So all in all there was no reason not to have it on the robot. Everybody who was not at Palmetto can check out the sign on our robot at nationals.