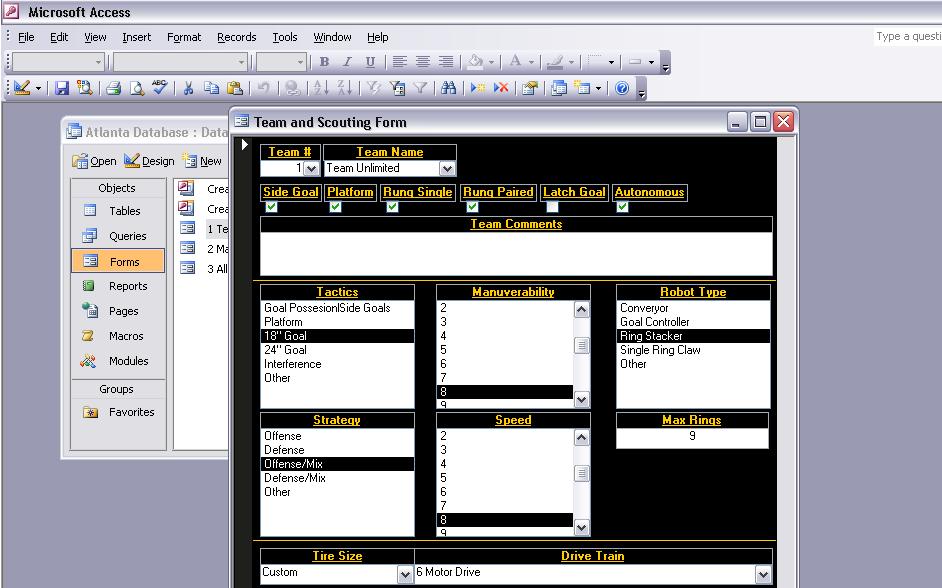 A preview of the scouting database preview created by Team Unlimited. This software will be made public when it is finalized for the use by ALL FTC teams in Atlanta or other teams.
Before Atlanta a second paper will be published here that will include all data submited to Team Unlimited for the use in the document. This document was created to allow teams to get a heads up in scouting for Atlanta.
If you would like to submit any information to the database, please check out the link here: http://www.chiefdelphi.com/forums/showthread.php?t=65723
If you do not want to submit data publicy, but would still like to submit the data, you can PM me with the data you wish to share, or email me at: Patrick.vex@gmail.com
Thank you all!
Regards,
~Patrick Pilvines, Team Unlimited (FTC #1)
UPDATE: We have more photos of the database here
http://picasaweb.google.com/patrick.vex/TeamUnlimitedScoutingDatabaseCaptures
If you team is in there and you would like anything changed, contact me.