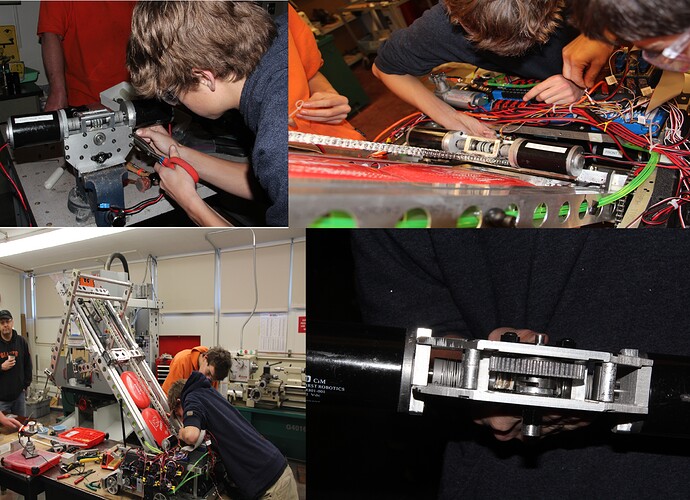 I've posted a couple of pictures of our quite successful SVR rebuild (Mark II) and our very successful offseason rebuild (Mark III, IV and V), but almost nothing about the bot that we first shipped, Orangahang Mark I. It was designed as a 50pt climb + cycler bot, and was a bear of a robot to design and build. I wanted to share a great story from the last days of our 2013 build season.
It was two days before the robot had to go into the bag, and our climber drive was geared too high. We had 2 CIMs going into a 20:1 worm gearbox, and it couldn't drive our climber hooks up against the gas spring assist. And we knew that if we couldn't charge the springs with the gearbox, we couldn't climb. Things were looking very grim.
So, we decided to re-gear. In almost exactly 24 hours, we designed a completely new 40:1 gearbox using the same worm gear set but including a worm gear reduction, milled it all (which took us until 11PM of the night before ship), assembled and shimmed it (it was 5AM by them), then put it back on the robot. There were some extremely tired but very happy mechanics people in the shop when the programmers walked in at 8AM. Somehow, miraculously, we had fixed what had seemed like an insurmountable problem in the day before ship. The robot went on to…
… never climb higher than the first level. That same gearbox had eliminated a critical 1/2" from our elevator travel, and prevented us from latching on to the second level. That failure led others to make our SVR bot a completely new one with a new strategic approach.