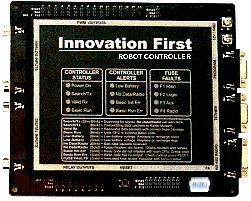 Could this be a snapshot of the full 2004 RC???
I started to get excited, but then realized that this looks like a very poor hoax.
First of all, it matches none of the details on the IFI website. Its just an 03 RC, with an edubot plug.
the perspective, image quality, and coloration do not matc hthe rest of the image.
Am i missing something? Is this serious or meant to be a joke?

You can tell it's been photoshopped. That's the regular RC with the EDU-RC's ports on it. Reason: I'm sure IFI would protect the device with some external fuses to protect against shorts, the "artist" forgot to put them in.
I'm "The Artist"
Actually, I was just doing this for some fun, and as a prediction of what the actual RC may look like. If you look at the spec of the new RC on IFI's site, it will have a backup battery using the eduBot battery (hence the plug). I also removed the team dip-switches, and added in some interrupt pins and the ttl serial pins. The Fuses are there, but they're blotched out from the lighting at the top.
Anyway, this is just my prediction… if you look at the sizes of the new RC, the are the same as the old, so I assume they will look quite similar. Didn't mean to take it too seriously. I wasn't trying to do a good job w/ the pic anyway.
haha
OOO i see the serial and TTL pins now.
It's supposed to run C, but it still has basic int err and basic run err lights and labels :mad:
Just because it has a Basic run error, or a basic int error doesnt meant it has to be running basic. That just means it has an error. lol
*Originally posted by Hendrix *
**Just because it has a Basic run error, or a basic int error doesnt meant it has to be running basic. That just means it has an error. lol **
That's true, but you only get the error when you run basic:mad: lol