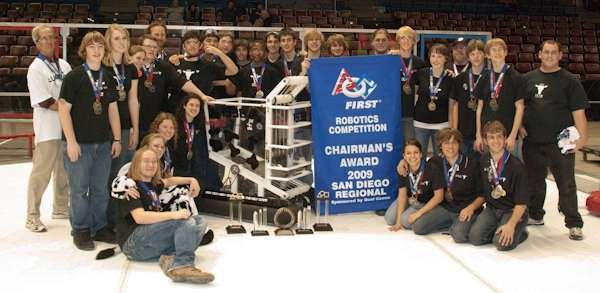 The Holy Cows with their 1st EVER banner. We certainly had a very special regional:
Woodie Flowers, Finalists and Chairmans…
Congratulations to all you!
It's great to see a team's hard work and great attitude pull together to have such a spectacular competition.
wow wow wow
Holy Cow!
This is probably the 10th time I've said this on CD, but it's so deserved. The Holy Cows are one of the nicest, most fun, awesome people in FIRST. They are so deserving it's not even funny. Grats on the banner and everything else, almost got a regional triple crown. Congrats guys and gals
HOLY COW! congratulations - well deserved
I miss those carbon fiber hands from last year and team 1323 misses San Diego in general. Wow, that bot looks very impressive. Does anyone have vids of San Diego?
Well deserved. Congratulations and we'll see you in Las Vegas!
Hey! Great job!
You guys made a great allience partner for the finals! It was a great match! Well done!
Team 1388
You guys were great too. Too bad we couldn't have pulled off a couple more wins to get both of us another banner. You've become one of those teams that I look forward to playing with every chance I get.
Hope you guys can win your way into Atlanta at your next regional! You guys certainly have one of the better 'bots this year.
To Everyone on the Holy Cows:
Your team is so deserving of everything you earned at the SD Regional. You were gracious hosts, wonderful friends, and tough competitors on the field.
You are truly a model of what FIRST is all about.
Congratulations to Jon Jack on winning the WFA, to your alliance for being a finalist and to the the entire team for winning the SD Chairman's Award. There was not another team at SD that was you equal in terms of heartfelt GP.
On behalf of every member of Team 341. Best wishes and we hope to see you in Atlanta.
Al Ostrow
Congrats. I had a blast watching you guys on the webcast. Well done.
Congrats on your tre"moo"ndous achievement!!
Good luck in Atlanta!! and in Las Vegas
Good Job winning Chairman's, you guys deserve it.
Jon, Congrats winning Woody Flowers, I cant think of anyone who deserves it more.
:ahh: :yikes: WOW all three, that seems an unsur-"moo"=ntable accomplishment! I love your aesthetically pleasing design!
Team 418 had a similar season down here in Texas!
winning the Dallas regional competition, along with the Woodie Flower's, Chairmans, Xerox Creativity, and going undefeated 1st seed at Lone Star regional in Houston.
Congratulations guys!