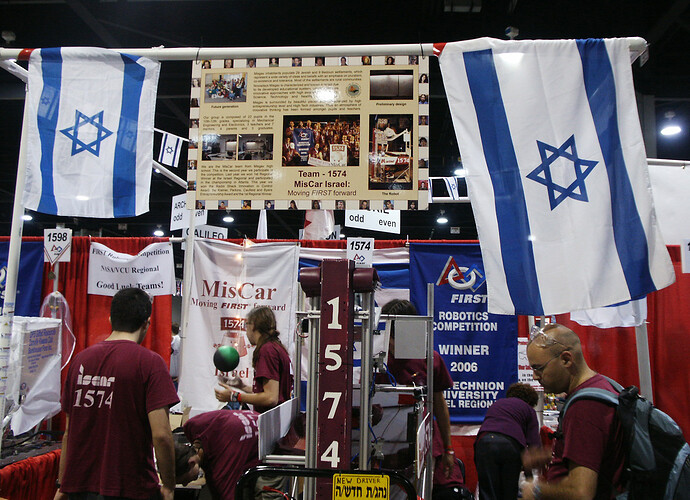 This was our pit at the Curie Division, and I think one could understand pretty well where we were from…
Ani ohev israel
I love israel
Their cart had a nice sound system.

We got to meet some members from this team during the competition, really a great bunch of people. I was surprised at how built up their pit was for a team that had to make a trans-Atlantic flight.
You guys had a very competitive bot (I think you beat us in one match, but a lot of that weekend is a blur) and I hope to be able to see you all in action at Nationals again next year.
Hi Guy, Thanks for posting the great picture. It sure was great for our team to be right across from yours. Team 1574 is a great bunch of guys and we enjoyed our extended talk with you. We are very glad you could come over to Georgia.
Dave
Hi everyone,
We are very glad that we had the amazing opportunity of competing in the Championship and enjoyed the competition very very much!
I was very happy to meet many nice people from many teams and was kind of shocked to see how welcomed we were.
I met many neat persons with a great will to help, that helped us throughout the competition.
I'd like to thank Johnathan Mittleman who helped us to build to pit.
love you guys,
Guy