what no girl to nag and bother arefin?
with that said… can this be the year fin comes up on top just for that sole reason?
We all know the your team is in better shape if those 3 are not mentoring…

Thats what I was thinking. That bot better be done guys! or get back to work!
is that a file? fau mentors… hmm.
As far as 1251, we are :ahh: almost :ahh: done. So Drew and I are excused.
I don't about Arefin and 1345

I have been done since week 3…
… I mean ya… we are almost done. The beast is almost ready to go out there. =)
Arefin:
Quit nagging me about mentors if all yours do is sit around. tee hee
Nice safety shoes Arefin.

Maybe one day the UCF Mentors will have a showdown with the FAU mentors… battle royale style.
Muahhhahahahaha
Hey! I have seen this pose before! Isn't there something missing like a cool drink and piece of pizza?!?
Fin, you're such a slacker:p
This picture is great, but I really cannot but my finger on why exactly.
I was going to post this picture to CD-Media sometime in the future, but it belongs in this thread: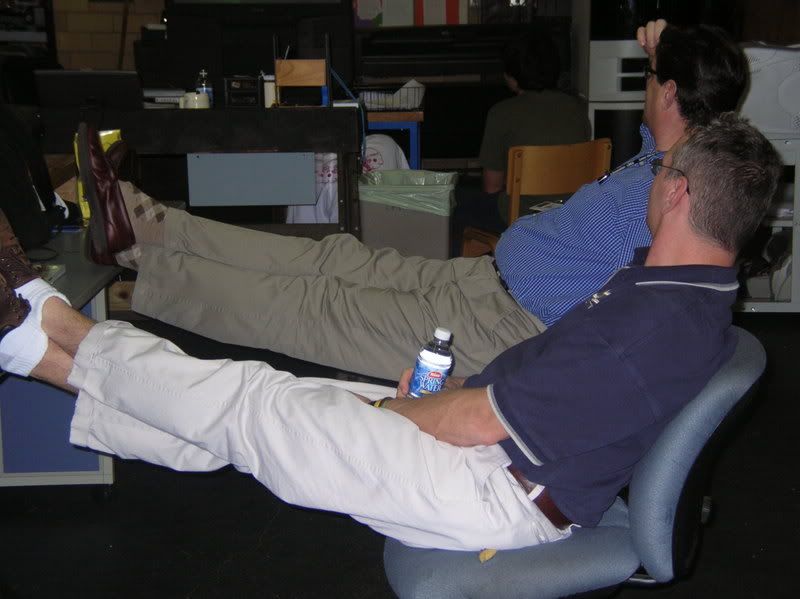 (It was a bad angle, but I only had a few seconds before they would get up and walk away.)
Edit: Oh, I forgot to say that they were watching tv.