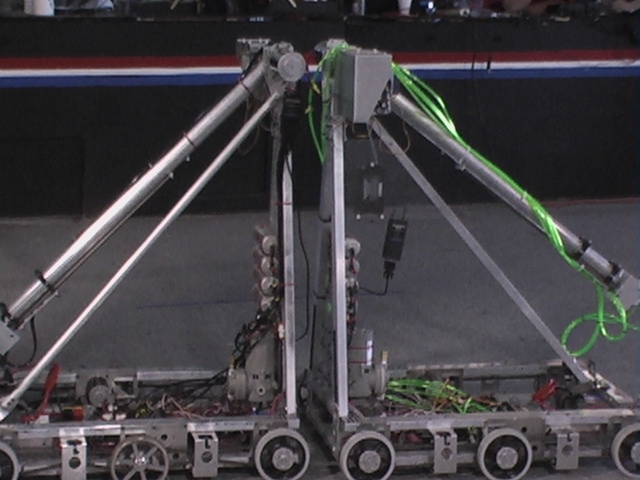 These are The TechnoKats twin robots for this season. We finally got two, nearly identical robots built. Questions?
"Rack Star"… looking for a stage to stand on.
AB
RackStar Specs
4 CIM motor 2-Speed custom transmission
6 Wheel Drive
Brakes
Pneumatic end effector
11 design iterations on the gripper, highly tested
Needless to say, we packed it with plenty of fattening foods in the crate.
We can't see the gripper

Indeed, it acts emo sometimes.
Why are there 4 airtanks on each robot?
4 airtanks are allowed by this year's rules, and I would guess that because they have the compressor and 4 tanks they plan on using lots of air. There are some pneumatic tubes running to the manipulator we can't see…
We don't use too much air, but when u have the room/weight to have all 4, we chose to mount all of them. Oh and by the way, kit wheels rock!
1501 has a "blue stage" and a "red stage" you pick. Double vision hurts my eyes! See you at BMR…
and…
I hope our modems work…
Nice!!
I'll take the one on the left if you're not using it anymore

Nice work TechnoKats! Those specs are eerily similar to ours!!! The look is even close…hmmm:rolleyes: …Even the 11 design iterations on the gripper. And yes, the kit wheels rock!
If thats what the rock star looks like, than wow they must have quite the tour bus.
Great job 45, it'll be interesting to watch this one work.
No… this looks too simple to be a Technokat Robot! Surely, there are some very nifty tricks to this robot that you haven't told us about.
A custom 2-speed gearbox? What could be better than the AM's?

Although, I think I spy TWO small pneumatics on your shifting drive gearbox. Could you give us a little insight into the reason for the 2nd? (Possibly a brake?) And, a little insight into this specific gearbox?
As always, a quality robot from 45. Can't wait to see some video, and that 11th iteration grabber.
BEN
Nice job guys. I see a pair of 06 and 07 radios hanging there. Maybe if we just mount both they won't say anything hmm? I guess that means the one on the right is the comp bot. Plus its all plumbed up
There may be a trick or two not shown in the pic, but this is the heart of the beast. Yes, there are two pneumatics in the gearbox, one for shift and a magical one. Basically, its very similar to the AM shifter specs, just a few changes, I believe.
We had some near horrific damages done to the robot due to the new radios cutting in and out, and losing total control of it. The 06 radios worked perfectly for testing, I believe the 06 radio was taken off before we shipped.
my guess is…
2nd cylinder = power take off for the cams not shown in the pick

I don't think that horrific even describes the damage.:ahh:
Luckily, by analyzing the shadows, our team was able to figure out many things about your gripper design. Here are the results:
It uses pneumatics
It's good…really good!
You should have just sent us the 3D model!

Dang… Ben has a good eye. Yes, there is a 2nd cylinder for a brake in there. We figure that we either don't want to get pushed around or we don't want to roll off ramps. No stage diving for this rack star!
The drive base is somewhat modular. The guts of the drive module in the middle is an AM Shifter. We removed the sprockets, and added a gear and another reduction to the shaft that drives the middle wheel. Essentially, it's a direct-drive AM Shifter.
On the ends are wheel modules. These simply hold an axle for the outside wheels of the 6wd. Chains from the drive module axle power the axles on the wheel modules. We've got a neat-o sprocket/hub that works very well for this.
Since we have these "modules"… we have some options. We really like the 6wd setup, but if we had to do something else, we could.
Andy B.