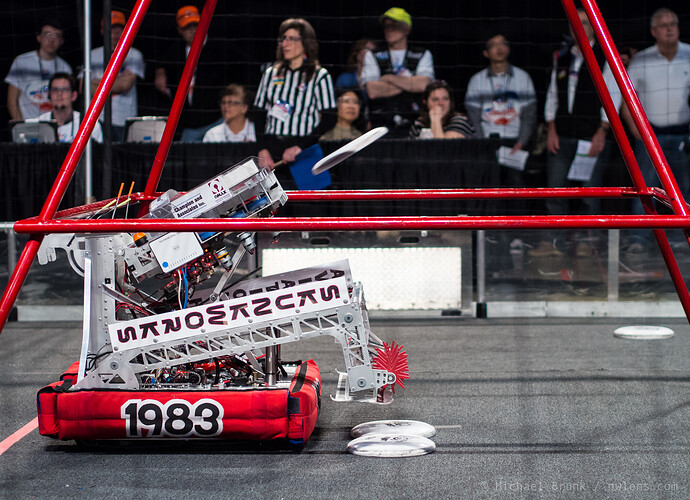 Taken at the Seattle Regional. This photo was taken by Michael Brunk of the B-Town blog.
http://b-townblog.com/2013/03/31/photos-highline-teams-excel-at-seattle-robotics-competition/
Lookin good!
I really like the leadscrew linkage on the shooter.
What are the red "stars" on the pick up device made of? Also, is the frame sandblasted? It looks really clean.
Ah, wow. I haven't seen those before. Thanks
The robot was made on an OMAX water jet and if i remember right they made the red intake things on the waterjet also out of some sort of rubber
You're correct, they are made from silicon rubber that was waterjet.
The frame is not sand blasted, but it is smoothed over with a rotary sander which gives the aluminum the matte appearance.
Can't wait to take a closer look at this at Champs. There are plenty of design goodies in just the photo alone!
You are correct that they are inspired by the Entrapption Star that AM markets.
It is an interesting story. Mike Trapp of Waterjet Cutting of Indiana is a friend and a great FIRST supporter. He started off his FRC "life" helping out my old team in Indiana (The RoboDevils 1018) We have stayed in touch and when our team needed something… he came through.
The team did the design and they are different and have the hex hole cut into them. The are a little beefier in the fingers than the originals and slightly bigger. Cut from red silicon rubber on his OMAX waterjet.
I have to really thank Mike for these… they work great and now Mike can say he has made FRC parts for teams from the EAST Coast all the way to the WEST coast.
Mike is one of those unsung FRC heroes, of which there are MANY, that continue to unselfishly support FRC teams from many areas. If you ever get a chance to meet him, you should thank him for all the work he has done.
( By the way, I would think you might have a difficult time hex broaching sticky silicon rubber. but I might be wrong.)
I like how you can pick up frisbees from the feeder station and the ground. I believe this will help gain your team an edge due to the large amount of frisbees on the ground from full-court shooters. Good Luck and looking forward to seeing your robot preform at Champs.