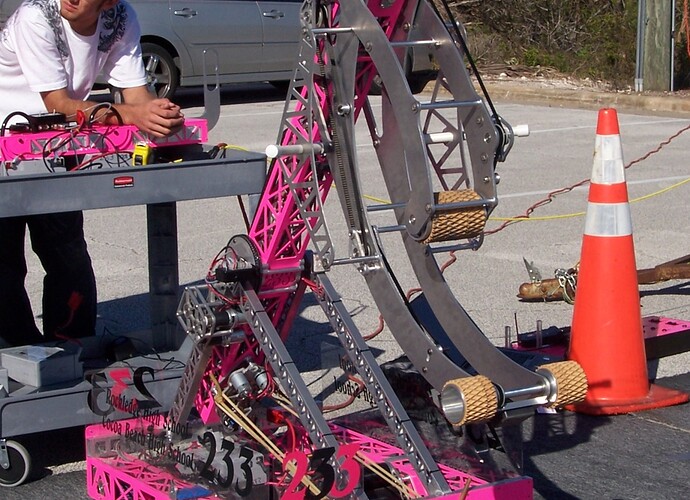 Starting position prior to start of a match. Arm operator was relaxed since we were testing our hybrid mode.
Truly awesome!
And in addition, you guys get to practice OUTSIDE in T-SHIRTS in February (when I am assuming this photo was taken).
Is your gripper 1/4 aluminum or some other lighter weight material painted silver?
Because if it is aluminum, I really don't see how you guys are under 120 lbs <_<
other than that… AMAZING robot!
ha that weather must be perfect!! nice lookin bot!

Yeah, I am not sure which I like more, the bot, or the weather…
Also are you guys within starting specs? Looks like your arm is leaning a bit far forward…
Man, look at that pink beast! Its awesome.
ITS LIKE A GIANT PINK T-REX!!! augh!
but it's soo cool!!! i love the telescoping arms that are so signature to this team.
Yeah, the tower is leaning a bit too forward. woops
Also, the robot in the picture is overweight, we quickly fixed that the past two days, and now we are adding ballast.
Looks like it's ready to explore space.