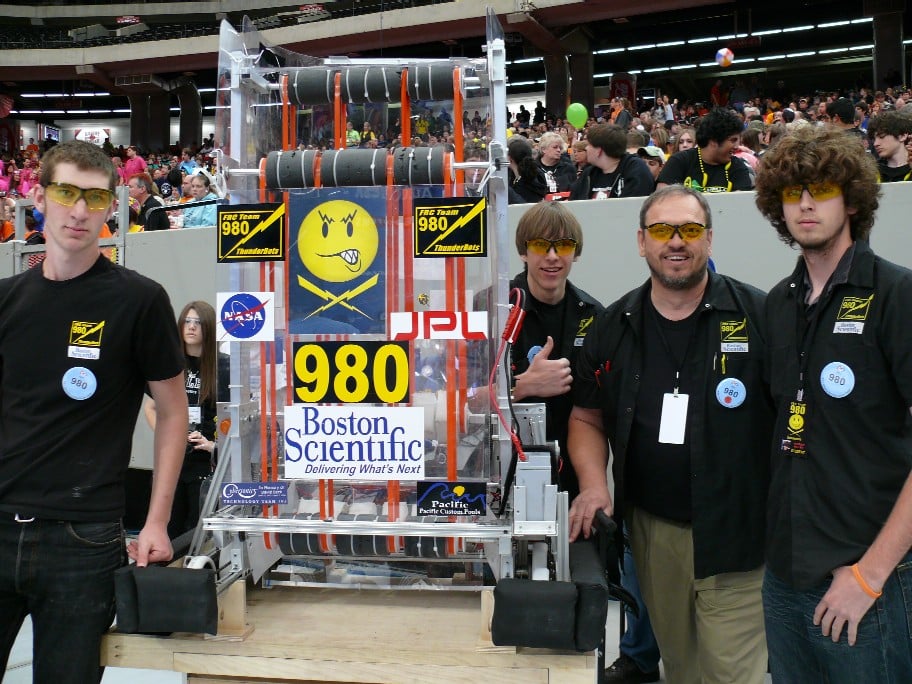 Mr. David Brinza and his drive team waiting for a match on Newton. Those are some good looking California boys!
David wore many hats this year. From FTA in Oklahoma City, to robot inspector, to coach. Great job this year!
Hang on a sec…
David is about 6'4" or 6'5". How tall are these students? They sure grow them big in California.
Andy B.
Yeah, their whole drive team was really tall.
You guys were really cool to work with and were a great help in keeping an extremely scary matchup down to 4 points in Qual 99.
It's something when David is the "short one." Whenever I took a picture of these guys I had to back WAY up. I heard one of them is into some sort of ultimate fighting, but they all look so sweet…
Meredith,
That's a great picture of our all senior drive team (including the "short one" who carries an AARP card).:o
Our human player, Nathan (far left), is into martial arts. He's got a great personality, strong work ethic and will succeed in whatever he wants to do. Our driver, Peter, gives a "thumbs-up" to FIRST and the incredible energy at Championship. Andrew is off to Cal Poly SLO in the fall, maybe he'll tag up with Adam Heard (Team 973) to continue as an FRC mentor. It was my pleasure to work with this great group of students, who despite very different backgrounds came together as a solid drive team. We all owe thanks to the rest of our team, our sponsors (especially Boston Scientific and NASA/JPL) and many other members of the FIRST community for a fantastic season.