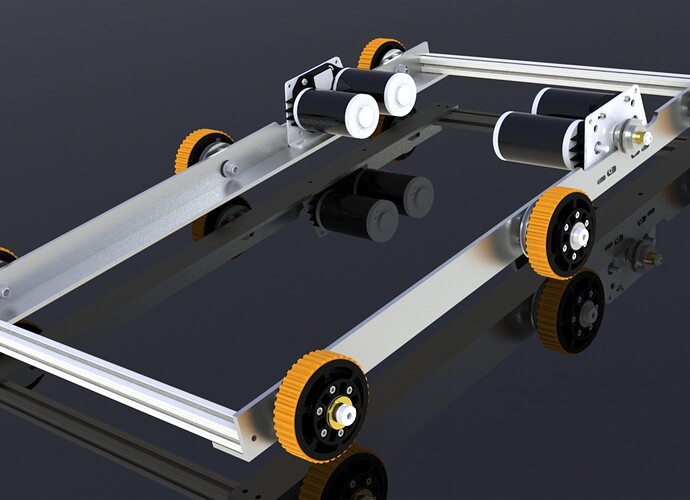 No, I didn't lose a bet… at least not yet

Our lead mechanical mentor, Mr. Stehlik, in an effort to devise an easy to build drivetrain, half-jokingly sketched out a concept to me:
Fundamentally it was a 3/8" shoulder bolt screwed into a piece of 1/4" aluminum bar with two nice big washers sandwiching the bar.
"There's your dead axle."
I smirked at first, then did a double take. I didn't think something so simple would be strong enough to support a robot's weight in motion. But then I thought: "put these shoulder bolts in front of me, and I bet I could do chin-ups on them…"
I thought Mr. Stehlik was on to something…
I still don't know for sure if this exact setup will be strong enough, but I'll leave that for someone much smarter than I to figure out.
I've been involved in FIRST since 1995 and this is the first drivetrain I've tried to design. I am an electronics, programming mentor first, and I occasionally throw my two cents in when it comes to strategy. Mechanical work is not my thing, but I'm glad I went through something like this. It gives me a new appreciation for all you crazy FRC folk who post drivetrains here on CD every other day (Kajeevan?).
It also has renewed my belief that every semi-serious FRC student should design at least ONE simple drivetrain by the time they are in grade 11. Superstar students should have already designed multiple by that point.
Technical Specifications:
6x 4" AndyMark Plaction Wheels
4 CIM, 2 per CIMpleBox (stock)
22 tooth to 36 tooth final gear ratio

25

chain driven, 3 chains per side
Cantilevered, dead axle design
Front and back wheels have 1 sprocket bolted directly on
Middle wheels have 2 sprockets bolted directly on
Front and back wheel axles mounted in slots for chain tensioning
Middle wheel axles are not in slots, and dropped 1/8"
CIMpleBoxes mounted in slots for chain tensioning
80/20 extrusion attached to angle with 3 bolts at each corner (1 axial, 2 from underneath via t-nuts)
An exploded view and a close-up of the shaft assembly are posted as well.