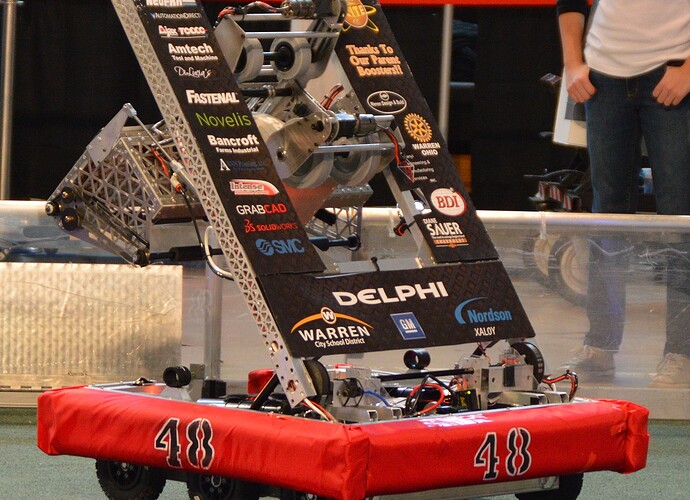 I wanted to post an updated picture of our robot ahead of the Championship, along with some video links to recent improvements made. All of these videos were taken after our last (and best) event - the Queen City Regional.
Autonomous Mode:
We had been hit or miss (more miss) with our high goal shot during the regionals. We added a sensor to detect the goal and correct for left/right misalignment just prior to the shot. This sensor also allows us to hold the ball if it does not properly detect the goal - no more chasing a missed shot in teleop. I was pleasantly surprised with the results during practice bot testing.
Outer Works Shooting (finally!):
Changed shooter wheel arrangement to four 5" Colsons all around and widened the wheel gap 0.5" on each axle. Better range, better ball feed through the contact zone, and (it seems) better accuracy from any shot distance. We can also still shoot into any of the three goals from our customary regional shot location.
Defense:
We've not yet been called upon to play defense at an event, but our driver is no stranger to contact. Both drive team and robot are ready to engage in all forms of defensive strategies moving forward. The robot is up to task - our practice bot, shown in the video, doesn't have a full bumper set on, and its gearboxes are 1 CIM/1 mini-CIM combos, instead of the 2 CIM gearboxes on the competition robot.