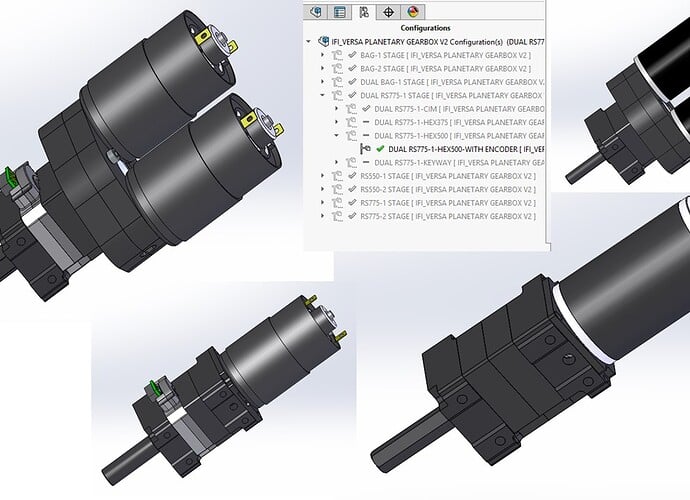 Here's a useful example of configurations in an assembly that you can use when designing your robot in Solidworks this year. Why configure your gearbox each time you need to use one in your design? You can download the Solidworks CAD files from the link below. Just insert this Versaplanetary model into your design, select the "ConfigurationManager" tab on your design tree to select the different configurations for the Versaplanetary gearbox.
ftp://Pwnage120916:2451@files.genesisautomation.com
Copy and paste into Windows Explorer (not Internet Explorer/Chrome/etc.).
Copy from the directory, do not cut as this is a read/write FTP folder, for now.
There are folders for the original VersaPlanetary and for the new Version 2.
The pilot ring is not a Vex CAD model, but a best guess based on the dimensioned drawing.
You can choose from an RS550 motor, BAG motor, 775PRO motor, dual BAG motors, dual 775PRO motors, single or dual stage for single motors (single stage for dual motor options only), your choice of CIM shaft, 3/8" hex shaft, 1/2" hex shaft, 1/2" round shaft, with or without the integrated encoder.