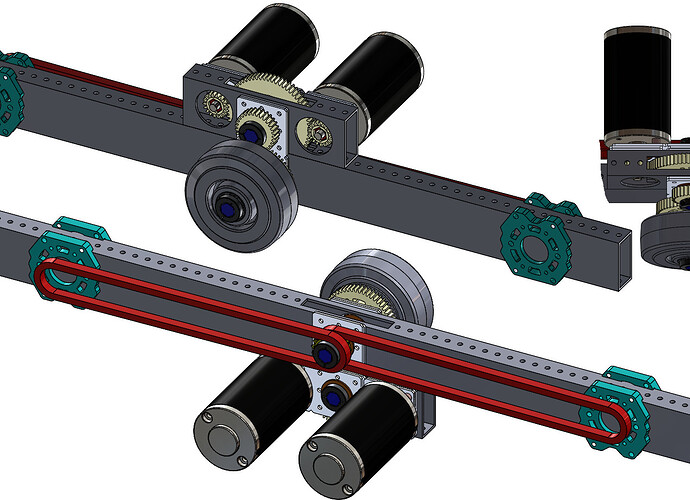 This is a quick gearbox I dreamed up using a lot of the Vexpro Face Bearing Gussets (8). The idea was to make it so that folks without the capability of making CNC milled parts could design their own gearbox with swappable gears to change ratios as needed.
This is a 2 stage reduction with no shifting, though will some work and extra VersaFrame you can make some pretty wild stuff.
You will notice that I stacked at least 2 faceplates in all places to make sure there was robust support for the bearings. Hardware is not shown. This is a little more expensive since the 0.750 diameter mounting boss of the CIM is not supported. Instead the CIMs have the Vex 8mm to 1/2 Hex part that is supported by a hex bearing.
You can keep extending this concept to add COTS shifter shafts from WCP or a 3rd CIM. Go nuts!
Disclaimer: I think this could be robust enough to last for a season, but please use caution. The most worrisome thing is that the CIM mounting bosses (0.750 diameter) are not mounted in anything and instead the motor drive shaft is constained. I could not find a flanged bearing with 1.125 OD and 0.750 ID, though I bet there is a needle bearing out there like this somewhere.
Feedback welcome!
-matto-
P.S. To Vex: If you want to make a second version of the face plate with different spacing (96 teeth perhaps) or a three hole version or a thicker version (.125 perhaps?) - I think even crazier designs are possible.