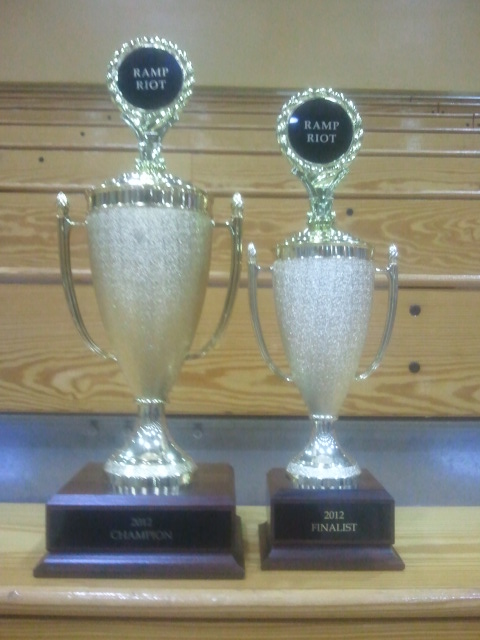 I posted this picture because it felt a little weird, and miraculous, to come in first and second place at Ramp Riot today.
Some teams from NY didnt show, so some spots opened up in the competition. We had done a summer robot project, a small robot with a 18" x 18" frame perimeter. We brought it to Ramp Riot in hopes of giving it to a pre-rookie to play with, but there were none today. Long story short we ended up fielding two robots the whole day. Come alliance selection our main competiton robot comes in as second highest seed, with the minibot (as we ironically call it) in 22nd. We come to the 1st alliance last pick and team 2606, the number given to the minibot, is called.
We play through the matches and end up having it being us vs, well, us! Team 2607 against team Team 2606 (We appended our shirts, of course). Needless to say there was a lot of gesturing and booing across the field to each other.
It plays out that Team 2606 prevails, but it was a little odd going into finals knowing your real team already won either way!
I wonder what will happen when "The robotics team places 1st and 2nd place at their off-season event" is said on the announcements after this weekend.