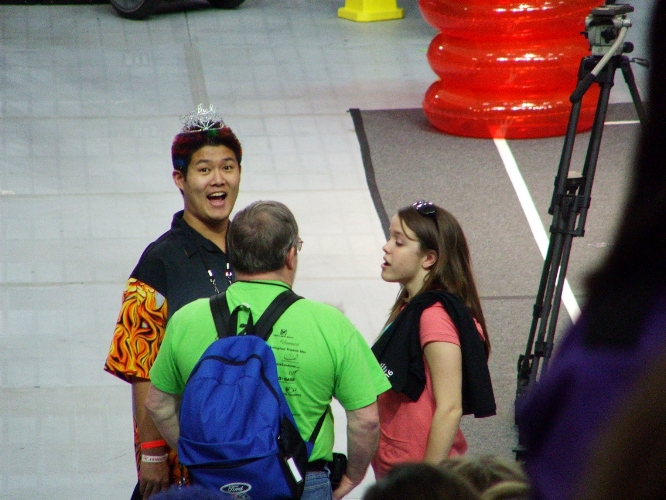 Oh How Pretty =P
Its like Wayne can smell when someones going to take a picture of him.
:yikes:

:ahh:


haha very nice
Thanks to Burman for this nice shot

I have a right before shot haha
Sweet pic. Wayne has got to be one of the coolest MC in all of FIRST. He's MC'd most of the events my team has gone to and he Rocks!
Agreed! Wayne's always rockin'!
At this exact time, was he saying "OMG ITS LIBBY KAMEN!"?
No Libby… he's rackin 'n' rollin


[it's much kooler than rockin']
Chris, I was hoping noone would point out that I'm in this picture (Making a really weird face…I believe I was talking…)
If I remember correctly, you're pretty much right.
OMG IT'S WAYNE PENN! Can you sign my book! I LOVE YOUR WORK!

You know… it's disturbing how many photos there are of him in princess gear. Which makes him even more awesome. Go Wayne!

I only wish I could've gotten that tiara to him sooner so he could've worn it the whole day.
It actually says "Over the hill." (which you can kind of see in my WAI pic)