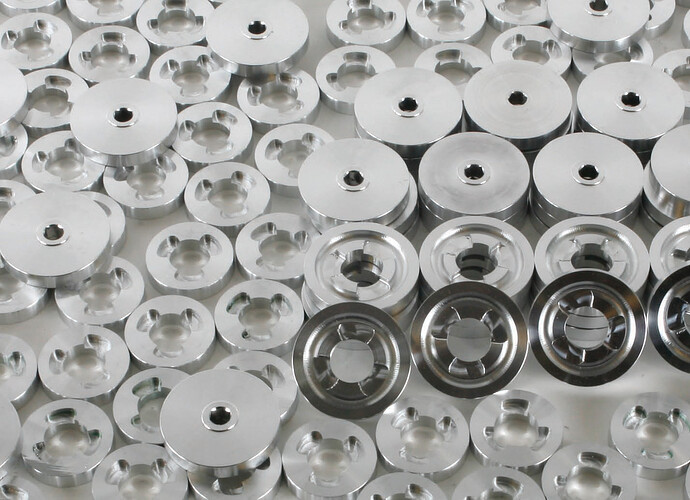 Hi CD,
These are some of the production (blank, sent out last week or so) gears for a new company: WestCoast Products & Design LLC. We will be a legal vendor and we will be ready by/before the first week week of build.
Id really like to thank 254/968 of 2007 for showing off their their slick ultra light aluminum 2 speed. It really inspired me and a few others. Also thanks to the folks at AndyMark and Team 221. These wil be available through AM/221 and WCP's website.
254/968 Gearboxes:
http://www.chiefdelphi.com/media/photos/28070
http://www.chiefdelphi.com/media/photos/27018
1323/973/2415 Season Set
http://team1323.com/rc/2011/ano_gears.JPG
Most if not all gears are to AM spec. Sizes:
14/15/28/30/35/45/48/60 - 35/45/48/60 are all dog gears. 35 and 48 are AM Supershifter replacements.
Note -All gears are 7075 Aluminum (1/3 the weight of steel) with a black Teflon Type III Hard Ano!
http://www.nimet.com/product/black_nituff.asp
The WCP site itself is not up for viewing for another few days or so. Sorting out the last few items.
If you have any questions, please pm me here. We will be selling more stuff than just gears

Merry Christmas!
-RC