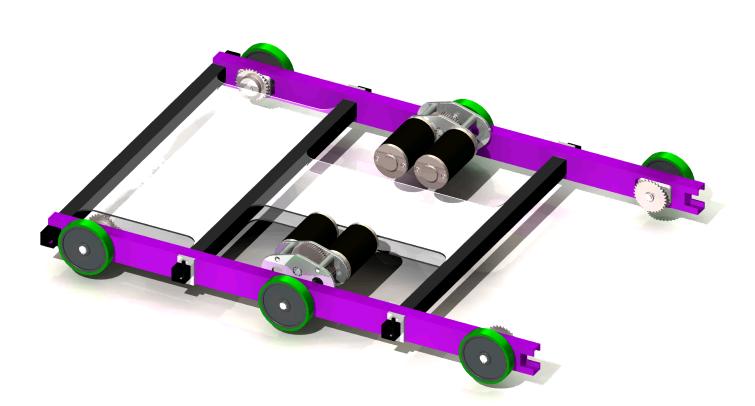 Basically a classic west coast drive train. This would use the new Bane Bots wheels specifically these:
http://banebots.com/pc/WHB-HS4-398/T80P-393BG-HS4
What this chassis specializes in is maintainability. The sides are held in by a pin and a plate. The pin is pulled inward by a spring housed inside two of the three cross members. To get the side off you simply pull the pin outward, slide the plate out sideways, let the pin fall back into place and pull the side off. The idea would be to replace and entire side if something breaks, that way the pressure to fix the broken side is lower and the robot can be ready for the next match in just a few minutes. In addition, it doesn't involve any welding and helps in the goal to make a bot with no threaded fasteners. I was also having fun with the rendering since roboticWanderor has been showing off.
In any case, the reduction to the wheels would be the standard gears used in the toughbox. It weighs in according to SolidWorks at 22 lbs, but I'm sure I believe that so I would probably put the weight at closer to 25-30 lbs.
Mostly just a fun project to incorporate the new wheels and have a chassis that would be really easy to work on.