wow this suits DJ perfectly, Not only is he a Role Model, but also shows his political assperations to be a keiser<sp?>
At first I thought it was supposed to be a turkey but then I read the "roll model." I'm not sure which one is more amusing but this picture is great nonetheless.
First the "sex symbol" and now the "roll model"

nice one M.
/me thinks dj isnt going to be too happy about this one… what are you going to think of next, krass??
wow…all i can say is wow…he's not gonna like this one…but hey…its dj so its okay…i have a strange feeling that this one might not last long on here…every time a bad pic of him gets uploaded it seems to magically disappear

Oh and next time ya see dj…ask him how his car is doing after friday night
hehe…
Aww.
If he really doesn't like it, we'll take it down.
I was all proud, and now you're making me depressed.
I find it funny as hell!
HAHA DJ! Lets have a challenge - who can make the most fun of DJ in one picture. Winner gets $1! LOL!

Mad props for M!
Now you can say that he is the roll model for little kids - literally!!
Now if you really wanna make him happy…make it a giant red maple leaf instead of a roll.
Yes everyone must ask him about his car…
I wonder how long it took him to get everything fixed so he could drive home:D Austin, you and i make a pretty evil combination.
Hey, at least it's a croissant. Maybe he's French-Canadian?

*Originally posted by Amanda Morrison *
**Hey, at least it's a croissant. Maybe he's French-Canadian? **
He does like Hockey alot…
Wetzel
You turkey
I will pay anyone $2 to see DJ wearing a Red Wing jersey - That would be golden!!
Not to mention DJ would dispise anyone that did that…

I'll see what i can do matt:)
I'm going to eat a roll now just so it looks like I'm killing DJ. :yikes:
But wow, that's just… um… freaky.
I think you people need to get a life

A. The French are panzies
B. French-Canadians are the smart ones that got out of France when they could

C. Over my dead body I would wear a Red Wings Jersey
D. I am not a roll
E. I am the king of revenge, all of you who insult me shall pay

NNNNNOOOOOOOO!!! DJ! Why did you remove the pic!!! Comon man!
*Originally posted by D.J. Fluck *
**E. I am the king of revenge, all of you who insult me shall pay **
Now this could get interesting.
Just remember, I did it in fun. If I'm going to be disrespectful, I'll do it with words. I meant no harm.
If I didn't like you, I wouldn't talk to you. I certainly would waste 10 minutes of my life photoshopping you.
Not the greatest image, but it's decent for five minutes of work. Sorry, DJ.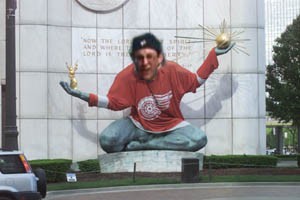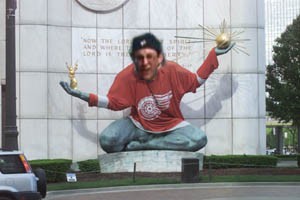 I wanna know who DJ bribed to get that picture taken off… any bets on how long Josh's pic stays up? It's classic, though. I think I'll save it and preserve it for posterity. DJ in a Wings jersey… hehe.