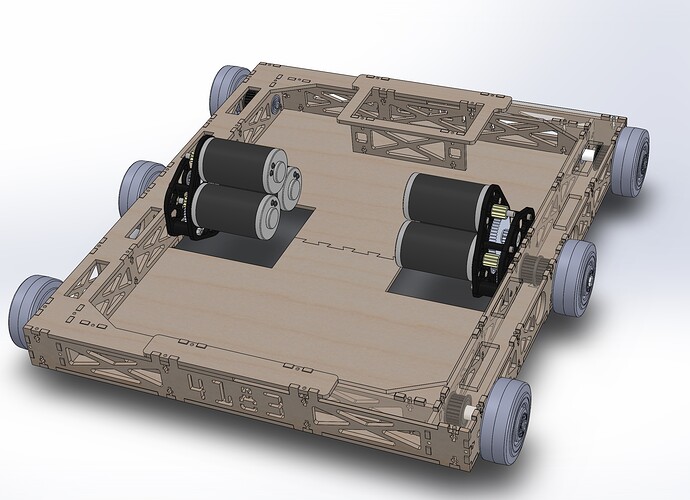 Just an afternoon CAD project to make a West Coast style drivetrain using the wood construction techniques we learned about this season.
About 31 lbs including belts, 2/3 of which is the gearbox and motors. The wood frame weighs ~6.5 lbs.
-Simple to assemble; contains only 17 wood parts, compared with more than 40 in our 2015 drivetrain.
-15mm HTD belts on 24t pulleys inside tube; assembled as Joey Milia described here
-WCP SS gearbox and 4x1.5" Colson wheels. Easy to adapt to most other gearboxes and wheels.
It's lightened more aggressively and uses smaller tubes than most of what we've built in the past, but certainly "probably should work". Areas I'm most concerned about are the joint in the belly pan, which could be reinforced with some 1/8" plywood and epoxy, if necessary, and the weight of the gearboxes warping the tubes. That could be fixed by adding a cross-brace between the gearboxes.
Bumper mounts, if necessary, could easily be added by extending the top plates and belly pan out between the wheels and adding a perpendicular plate to brace them.