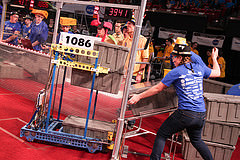 Chesapeake Regional
Help feeding totes in quarterfinals
This is an awesome photo, and it was great working with your team in playoffs. Do you have a higher res version of the image?
That's an awesome photo. I'd be sending that to every local newspaper editor.
I can still count the pixels with just one hand
You have 30108672 fingers?
loominarty kinfurmd
Sidenote, our alliance name was the "Absolute Power Cheese".
Im not sure how to post another picture to this thread but I should also mention that I downloaded this from flickr. (I just wanted it as my avatar pic

)
ooo! I found out how to do it

(I think) https://www.flickr.com/photos/122681157@N06/16467403424/in/photolist-r6aKjG-r6aqEN-rHQBxt-s32BG1-rKGSig-s3adC2-r69gyU-s39mrv-s31Fzd-r6jnzk-rHMPVv-r6gJbr-rKtMLW-s31zZe-rKsULQ-rHJk98-rKu23h-rKASxM-s34hkV-rKtZau …guess not
But heres the link to all the other pics of your team (Any other teams that went to Chesapeake also have pictures just search flickr with #team (insert team #) )
Here are some more pictures from Chesapeake
get off the internet john
kathryn,
It was a pleasure working with you and your team. Best of luck at Worlds!