My first thread was a pretty big success but I definately feel like I could have been more explicit with my offer, so hear is the real thread:
With the release of Pokemon Black and White, we on team 365 wher exited to find out that there was a gear pokemon called Klinklang: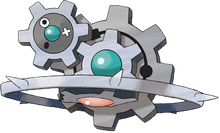 As you can see, with a bit of tweaking I was able to render a simple grey klinklang sprite in to a MOE icon!
I have decided to spread the wealth among the rest of first by offering to make a free pokemon icon for teams that ask :3
**Just leave the pokemon you think best describes your team in a comment and in around 48 hours i will deliver an icon to you. **
READ THIS FIRST!!!
.I will only do one icon per team, sorry.
.If you don't like your icon, I will tweak it until your happy
.Don't ask for animated icons, they are difficult and time consuming.
.I can not make any promises on the time it takes for me to make and give the icon to you; I try for less than three days, but I have many IRL things to take care of.
.I use PhotoShop CS4/CS5 for these icons. I also get most of the pokemon images from various sprite resources.
.[shameless plug] I am Adobe Certified for PhotoShop and will help your team with anything they need art wise. I am also planning on starting up a PhotoShop class… so check it out :} [/shameless plug]