Anybody want to make some predictions for the BAE Regional?
i think everybody has an equal shot.
some of the teaams that i have well noted this yaer will be 121, and 190
I predict that people's "favorite" going into the finals will not win.
I also predict that most predictions will be wrong.
190 is always incredible in theory and better than most on the field. (I wish I got to see there hanger work more than once…) I think the championship will be up for grabs this year.
I'll bite.
I predict that at least one of 126 and 175 will be playing in the finals.
I predict that 88 will fly under the radar, but do extremely well because of consistent play and smart strategy.
I predict that 121 will win a lot matches by playing tough and aggressive defense.
I'm going to make a prediction that those who have practiced and have seen the game via attending the "preregionals will have an upper hand this year. Therefore I expect within the first week of regionals and especially at BAE that the veterans will fair better than the rookies. However, I feel that at least one rookie will be in the top 8.
From what I've seen everyone this year has put together quality machines. I think this years comp. is up for grabs and anyone could win. Good luck to all.
-Pat
126 plays it smart every year. Knowing teams abilities will be key and they have the scouting thing down.
Hopefully the Rookie-All-Star of BAE 04 will make a great showing, team 1350, one of the other Rhode Island teams.
Good luck to everyone!
ps. look for 121 in thier new color this year (hint its not white anymore).
121 looked good in Quincy as did the rest of the teams that were there. Of course you dont want to count out 1350. Havent seen it in action yet but if it is close to last years it will be competitive.
This is a weird year where every team's functionality is about the same.
The team who is the most reliable, durable, fast, and has a good driver and strategy will probably win.
I predict Tom Bottiglieri and Stephen Yanczura from Team 195 will be making a cameo at BAE (sans team). Be sure to say hi if you see us and give us a hug (if your cute

).
im cute, and will be at bae…does that mean i can get a hug??! lol
You should look for 125 to be a slow grower for a second year. We're still mending our wounds from last year where we finished rather poorly our first regional and much better the second; bottom 10% at BAE, top 10% at Annapolis.
We have, in theory, a good robot. Our 'bot features a very light arm capable of reaching 12ft and a simple manipulator. A very low center of gravity. Underneath the hood our drive train is powered by 4 CIMs and AndyMark trannies.
Unfortunately, Thursday morning will feature a lot of mechanical work and the afternoon will lead to much programming work. In short, we'll either hit it big or fizzle.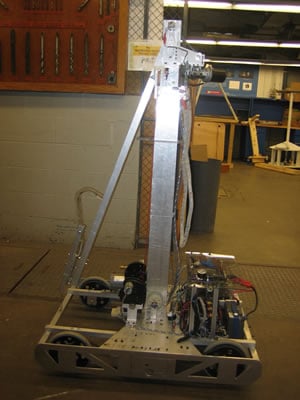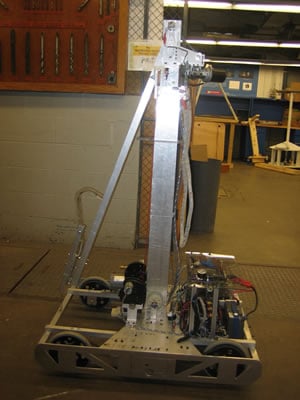 from what i have seen… i think a fast drive train and RELIABLE capping will be out a very fast capper who is not consistent and has flaws…
i KNOW just from past years that coaching is tuff and this year it will be VERY VERY crucial to even just say you get this goal we get this goal you go that way we go this way stop them… chaos to the max… it will be fun stuff lol =P…
another thing that will be huge from what i heard about the UTC scrimmage… THE HUMAN PLAYER… it can make or break a team… espically with 10 pt penalties for each time BOTH feet are not on the loading dock for the HP… so any team ONLY using the HP will HAVE to be careful… and HP's i think will be the biggest penalties and thje most often given penatlies this year…
as for the teams… i heard 88 is good and going to be a tough team overall…
team 190 was underwraps all year and the little i did hear was suberp… and a few other teams that were given good reps from pre-season scrims that im looking forward to seeing… and i think a mix of d by 1 team and o by 2 teams will be the key combination…
I happen to know a Team 125 freshman NU student pretty well and he said they are a force to be reckeoned with. Great drive train and good arm. I really like their chassis.

Buzz will be strong as well.
Gompeii drive train is incredible!!! Will drive in a straight line and spin on its own axis at the same time. Manuverable to the MAX!
So with most of the practice day over, what does everyone look like, and who looks the best now? I will be up there Saturday, as well as about 10 other members of my team.
My picks for BAE after the whole 2 hours I got to drop in today… (can't skip test days at college!)
88, 126, 133
lets see how good 2 hours plays out by saturday!
Sorry for the side question, but for those who were at the regional, how many practice matches are teams getting? Any word on how many qualifying matches? Thanks.
I talked to Scott Shaw of team 237 (at finger lakes), and in the timeframe of 10 AM - 4 PM they got 10 practice rounds (5 times up with 2 matches per time).
I predict teams going the UTC New England regional will be well supported in the audience, incognito of course.

This is one of the toughest regionals and because of this year's game design I think rattling off the typical "favorites" isn't necessary. My thought is that there will be a lot of heart-breakers in the elims with close scores, and at least one elim match-up will be decided on penalties.
I gotta say though I'm pulling for 121 after what they went through last year coming so close, twice I think, I hope they can pull it off this year.
Digression: This year's game is a much better spectator game than I thought it would be, because the scoring is easy to explain to the non-FIRSTers out there, and there is a lot of on-field action.