Hello everyone!
This is Riptide Robotics, an up and coming supplier for FRC!
Our goal is to create and offer products that are practical, affordable, and durable. We have not officially launched our 2021 product catalog, but we would like to see the community interest for a product that recently we designed and tested for the 2020 season.
It is a custom wheel for teams who want to balance the generator switch, helping them to ensure the RP when possible. Below are a few pictures, specs, and a STEP file for the product: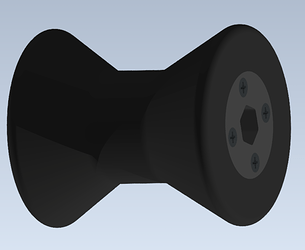 !
STEP file: https://grabcad.com/library/riptide-robotics-translation-wheel-rev1-1
Industrial-grade rubber
0.5in Hex bore
3in high point, 1.58in low point, 3.13in long
0.5in hex bore (Thunderhex/Churro)
~10oz
We are looking to sell these for ~$25 with free shipping. If your team is interested or has any comments or questions, please leave a comment here or PM us.
Stay safe!
-Riptide Robotics