If you're not going to do it for yourself, do it for Good Guy Frank.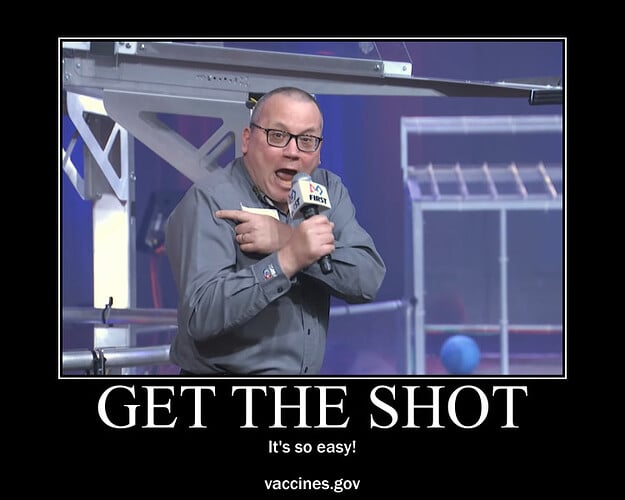 But… You don't need it to go to champs! We're all good there

/s Please everyone get your shot.
One year ago this week, Frank reminded us to get the shot. As we enter FRC season 2023, we're in much better shape than we were a year ago (3 million lives saved in the U.S. alone), but we're not out of the woods.
We're in a tripledemic: Covid still lingers, we're in a bad year for the flu, and RSV is on the rise.
We're about to enter a time of year when lots of us spend lots of time in groups, often working longer hours and pushing our limits. It's a season ripe for illness, even if we weren't in a tripledemic. Luckily, there are a few things we know work:
Get the shot, as Frank asked us. Covid, the boosters, flu shot, all of it. It's too late for kickoff, but if you get the shot today, you'll be protected by week two of build season. Major win.

Make smart decisions around masking and distancing. I'm not saying everyone should wear a mask all the time. I'm over it, too. But if you're flying on a plane, visiting a high risk setting, or doing something else where some added protection would make sense, protect yourself and the people around you. The mask doesn't just help with Covid – it helps with all the nastiness we don't want in our systems.

Stay home if you're sick. Pre-pandemic, a lot of us pushed through it, especially during FRC season. Please don't. Don't be a hero. You're more valuable to your team resting up at home than you are working for a few extra days and getting others sick. Plus, if you're feeling well enough to do work, in this day and age, so much can be done from home.

Get sleep. This is really hard for a lot of folks to hear, and even harder to do. I'm no saint in this area, but when I have been able to listen to wiser people, I've felt better physically and mentally. Not only that, but the science says you'll be more productive. Spending more time on something won't automatically make you more productive.

Wash your hands. Don't be gross.
Wishing everyone a safe and healthy season!