The position of cable protector on the field disadvantages the red alliance in two main ways.
First, it makes the ball return exit aligned with it (which is supposed to be a red-favored exit) not as favorable, because half of the balls coming out of that exit end up on the far side of the bump. This introduces extra effort (whether due to difficulty in maneuvering, needing to slow down, or just plain annoyance) in retrieving balls that should have been easy to get.
Second, many teams prefer not to score near the cable protector due to issues with turning or bumpiness that can affect shot consistency. The cable protector creates a dead zone for shooting that extends solely into red's half of the field (indicated by the magenta line), giving the red alliance less area of accessible field space for scoring than the blue alliance.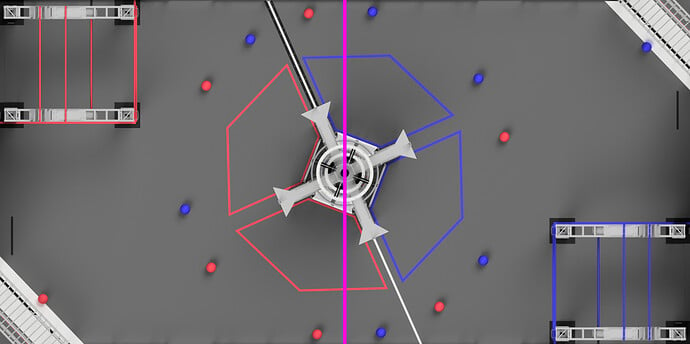 These issues seem minor but may have a large impact at the highest levels of play when ball accessibility/starvation and defense matter a lot. Personally, my team has found playing the left side of the field on the red alliance to feel really cramped, and there's not a lot of room to maneuver and get clean shots off.
What are your thoughts? Is this why 14/18 matches on Einstein were won by the blue alliance? Should FIRST have put a dummy cable protector on the opposite side of the field?