So I did a really quick analysis of strength of schedule on the Milford event. I have no idea how valid this is but it gave me a good sense check, it assumes rank is a good indicator of likelihood of winning, which is kind of using the result in the analysis, but you can tell me why this analysis is flawed (I didn't feel like busting out Python for this). I took the ranking of each team in a match at the end of qualification and added up each alliance. The alliance with the lower total won 64 out of the 78 matches. So going off this, I then looked at every match for an individual team and subtracted their rank from the delta between alliances which provides the required rank they'd need to achieve to be able to win the match, totaling these gave an ease of schedule indicator (lower numbers mean it was harder). This method shows 7220 had the 16th hardest schedule at the event, 67 had the 9th hardest and ranked 1st, 453 had the hardest and ranked 39th, 7769 had the easiest and ranked 13th.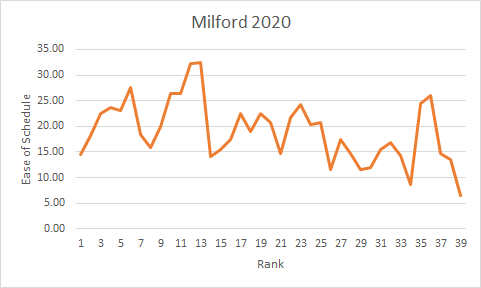 Long story short. The match schedule wasn't your problem, you had a near average schedule. Maybe someone with more time / ability to code quickly can do an ELO strength of schedule analysis (I'd be interested to see how that compares).
Based on your other posts and where you compete, I assume one of the powerhouse teams you are referring to is 67. Since I was heavily involved in scouting on 67 from '14-'19 (I was not involved with the team much in 2020) I'd be happy to address any misconceptions you have about how big teams scout and/or do alliance selection (although I don't want this thread to get off topic).