This is a project from the new Mk3 Swerve from SDS, Check it out here: SDS MK3 Swerve Module
From the looks of it, its a SOLID swerve design and i highly suggest you check out this forum!
This is a topic as a continuation of this topic here: Revisit: 3d Printing a swerve drive
As I promised to @PatrickW I would update you as soon as I started.
Well here goes the start of many headaches!
The first step was choosing what motors i would use that i could modify and mount to the top plate.
-After many small personal debates, I chose two motors i have lying around from an old project, 1 46:1 ratio encoder DC motor (wheel power) and 1 72:1 ratio encoder DC motor (steering).
These motors fit perfectly on the plate and with some small mods to the mounting holes on the plate are now printed and mounted!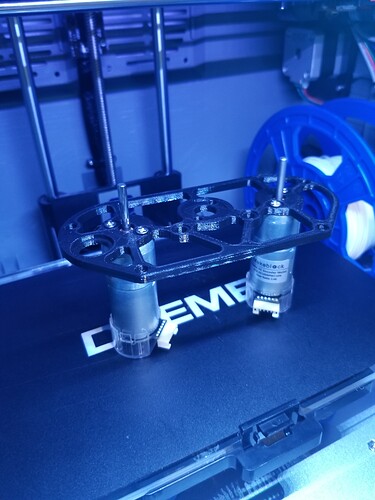 Next step was to print the gears that attach to the motors (as well as the small spacer), I don't have a picture of them yet but they came out perfect
and last for this post, I just tried to print the bottom plate (one half because I had to cut it in half in order to print it on my Dremel 3D20) and sadly due to bad plate adhesion it came out horribly. I currently have it printing with a raft in hopes to improve it. I'll update again when i have the two plates mounted together!
feel free to ask any questions!