Hello! Our FRC team (3484) has recently encountered some troubles incorporating encoder functionality into our LabVIEW project for the 2021 season.
We are currently unable to read any of the pulse feedback from the encoder (REV Through Bore Encoder). When we try to move our device, the encoder output does not change.
We have made a handful of attempts towards troubleshooting our issue:
We have tried changing the DIO of the encoder on the RoboRIO
We have tried changing the RoboRIO entirely
We have even tried using a different encoder (another REV Through Bore Encoder)
We have also tried using both quadrature and absolute methodologies for reading the pulses
We now wonder if this issue potentially lies within our LabVIEW code…
Here is what the current state of our LabVIEW code looks like: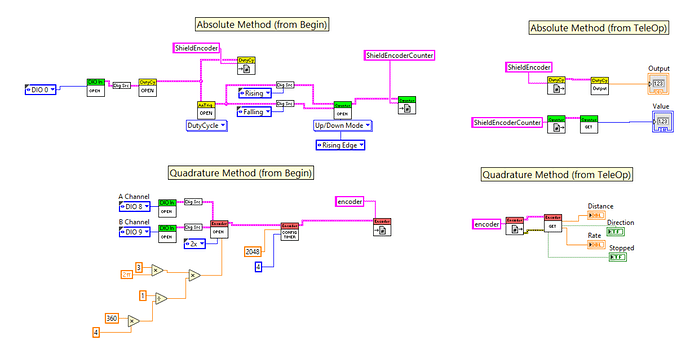 Does anyone see an issue with our code, or has anyone encountered a similar issue?
Thank you very much,
Team 3848