Hey everyone, I realized that with all the different things REV has been doing this past year, we didn't make a collective tread for all of it. Since it is early in the year, hopefully I will get to post lots of cool new stuff in here over this year.
Today we launched 1/2in Hex shaft collars. These are molded plastic, use a 10-32 screw are small, light and low cost. We have both a 1 Piece Shaft Collar - 1/2in Hex Bore - 4 Pack - REV Robotics and two piece version, and they are available now.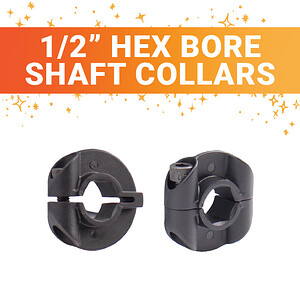 Other things we launched recently that are worth checking out are
We expect 2022 to be a big year for REV for both FRC and FTC teams, and we are excited to share more new products with you!