Team 3201 is selling four (4) Rev SPARK (not SPARK Max) motor controllers. 3 of the boxes are opened, but everything appears to be in perfect condition and all the contents (including PWM cables and spare terminal screws) are present. The fourth is unopened.
Already some of the most affordable FRC-legal controllers on the market, these are yours today for a discounted $35 each with free shipping. Please purchase through the eBay listing. If you have any questions, please ask away.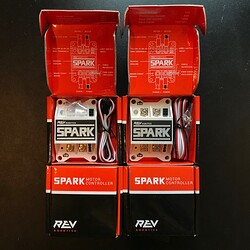 Controller specifications from Rev.