It's that time of year again! Ri3D 2019 has kicked off and there are several ways you can follow along with the 'Snow Problem build!
Livestream of Build
Twitch
Prototyping/Technical Videos and Official Reveal Video
YouTube
General Updates
Follow Snow Problem on Twitter and Facebook too! @snowproblemz
The prototyping process is well under way. We are thinking that our general strategy will be to create a lower level scoring robot (including first level of ROCKET and CARGO SHIP) that can climb to either the mid or high HABITAT PANEL, depending on how prototyping goes.
Here is a photo of the prototyping work breakdown from our strategy discussion. Stay tuned for updates on how these prototypes turn out/perform.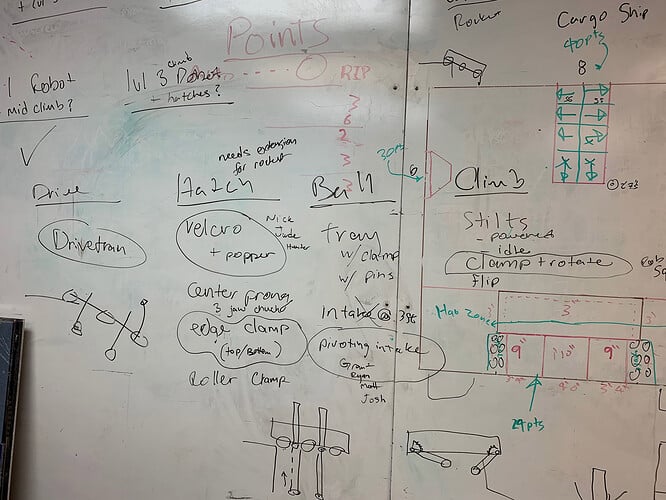 I've had the stream up all day, things are looking great so far!
We have been working hard on our HATCH PANEL manipulation prototyping, here's a video showing some of the testing!
Great to see the videos out so quickly! Awesome job so far guys, looking forward to seeing how things progress!
There was a bunch of empty time at the end of it with a black screen. I'm guessing that's being fixed!
Yes, you're right! Here is the actual HATCH PANEL prototyping video - sorry about that!
Great stuff in this video. Confirmed many of the things I thought about using Velcro to pick up the Hatch Panels. I'm thinking a similar set up with an additional pnuematic or 2 to grip/clamp the HP will work like a charm. I think the extra cylinders will help with overcoming the brushes on the feeder station as well as prevent dropping in the inevitable event of collisions.
Our Prototypes White Paper is officially up!
View the whole document here
See all 2019 White Papers here
I love the white paper, but just wanted to let you know that section 5.2 MVR is a word-for-word copy of section 5.1 Moving Van. Thanks!
Thanks for catching that! See the 2019 White Paper folder for the updated versions!
Curious about all the CAD work that you've been seeing on our livestream? Here is an in-depth walkthrough of the current state CAD for our 2019 robot. Keep in mind, we are only halfway through Ri3D 2019 and this is all still a work-in-progress. We are very excited to see how these ideas and design concepts perform!
We're here with not one but TWO white papers for you!
The first one is our Tournament Strategy white paper. This white paper aims to highlight some of the decisions and ideas which shape an effective team strategy. This strategy includes our ideal robot movement, game plan, and place in a playoff alliance.
_Snow_Problem_Tournament_Strategy_for_Destination__Deep_Space.pdf (1.2 MB)
The second one is a white paper written during Ri3D 2017 all about our powder coating process! This white paper provides a description of the process of powder coating used by Robot in 3 Days team 'Snow Problem. It describes the process of powder coating and how to get the process started for a team.
_Snow_Problem_PowderCoating.pdf (298.9 KB)
See all 'Snow Problem 2019 White Papers (and 2017 Powder Coating White Paper) here.
Here is a short demo of the climbing mechanism deploying as we are putting it together, which gives a glimpse of how the mechanism will work in final state.
Initial Climb Mechanism Deploying Demo
Here is the successful final testing of the HATCH PANEL mechanism before being mounted to the robot. We are very pleased with the results of this subsystem!
Special thanks to FRC 3042 for loaning us a HATCH PANEL to test and film with!
We have our robot fully assembled and did some initial testing - all looking very promising!
What are your frame dimensions?