Maybe the Hunchback of Notre Dame was just a really good programmer. Would love to have him on my team.
My favorite joke of them all: "This untested code is totally safe" (said by me testing my vision alignment command for the first time)
"Kill all programmers!" - My coach after we changed the code at the competition and the robot stopped moving.
Whoever told you to change the code must have a lot of faith in y'all, if I change anything with the code during competition time my coach gets furious
I hope you guys got it fixed!
A bit late for that… if you kill the programmers at that point the robot will never start moving again! (Hope you were using version control and were able to revert quickly.)
True, thats why my coach is waiting until post-season to kill me
599 has you covered.
Admittedly the doctor you get might be a robot…
Two robots drive into a bar, the 3rd one had a better driver.
How many programmers does it take to screw in a light bulb?
.
.
.
.
None, that's a hardware problem.
In one of the matches I saw the robot just quit. It simply was lacking the wheelpower.
Where there's a wheel, there's a way?
Robots should not quit, but yours did!
I read that as the robot lifting the arena wall and quitting by driving out of the arena. Silly robot, you'll get disabled!
Wait…your robot tells jokes?
So true in so many ways…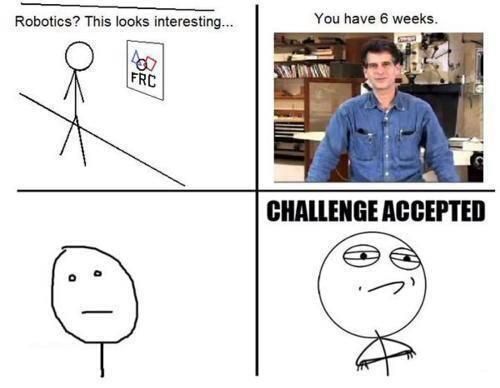 Wait, I just realized, if dalle 2 makes images with text… it should be able to make some FRC memes

Its never a software problem, always a hardware problem.
-me, a coder