WOW. I didn't think anyone would actually pull off driving up the wall to traverse. Well done. Your robots are always so unique and I love it.
I showed up looking for 26" bike wheels, didn't get them, yet am not disappointed at all. Really glad someone pulled this off. Now we just need a jumping robot.
Someone better hop to it!
Someone, somewhere:
"well now we gotta add a category for notable 5 wheel swerve robots. You'd think 3, 4 and 6 would be good but noooo."
Can't make boring robots, right?
Ingenious climb. Would love to see how maneuverable this bot is considering the long and narrow chassis.
It's still 26.5in wide, with basically the widest wheelbase you can do with 5 swerve modules
I may have suggested this but the springs get heavy fast (to launch ~110 lbs to required height) and coordinated release of them to lift properly seemed pretty challenging. Now if we were able to use compressed gas…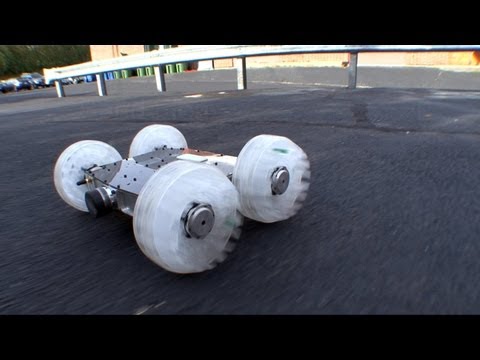 Very Thrifty. I love it. Y'all do the craziest, coolest stuff that is still competitive. Can't wait to see it in action!
I'm fascinated by this bot. How many motors are you using and how are they allocated?
Seeing that drivetrain, I had no idea why anyone would want to do that. Seeing the whole robot, it all makes sense.
Congrats on pulling off the wall climb! Bot looks solid all around.
Someone in New England might like a word

Guess we'll have to wait and see
All motors are independently driven / not tied together
5 bag - steer
5 falcon - drive
1 775pro - intake
2 redline - shooter feeder
2 falcon - shooter
1 falcon - turret
1 falcon - front climb wheels
1 falcon - back climb wheels
How is your drivertrain's efficiency? Can it drive as fast and smooth as the four wheel swerve. From the video, it drives too slowly.
Besides , your traversal climb is so interesting and good.
It's faster in person, the slow part you saw in the video was auto
Extremely clever and functional looking robot, I love how you could permit 2 "standard climbers" to gain Traversal rung before climbing and still make the climb (crawl?

) in the dying seconds of the match.
First triple transversal will include 2481. You heard it here first